On the occasion of Women's History Month, and in conjunction with the National Museum of Women in the Arts' second annual #5WomenArtists campaign, we're highlighting five women artists with works in our collection each Wednesday this month. This week we begin with artists who were active between the mid-1800s and the mid-1900s.
Rosa Bonheur trained as an artist under her father, who encouraged her to draw directly from nature. Disguised as a man, Bonheur frequented slaughterhouses and stockyards in order to gain a deeper understanding of animal emotions. This dedication led her to become one of the 19th century's foremost animaliers—artists who specialized in the realistic portrayal of animals. Bonheur made the Albright-Knox's Le Marché aux chevaux (The Horse Fair), ca. 1852, as one of many preparatory studies for her prodigious painting of the same title, which is now in the collection of The Metropolitan Museum of Art.
An immensely prolific and innovative artist, Sonia Delaunay engaged in a practice that extended not only into painting, but also poetry, the decorative arts, lithography, bookbinding, advertising, fashion, textiles, set design, and costume design. The Albright-Knox owns 19 works by Sonia Delaunay, including Rythme coloré (Colored Rhythm), 1958, which was on view in 1980's Sonia Delaunay: A Retrospective, a large survey of more than 200 paintings, works on paper, and decorative arts projects created over eight decades.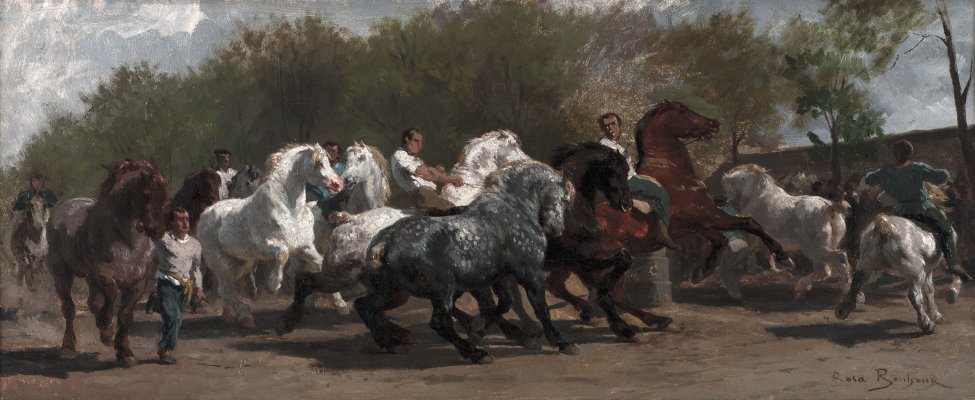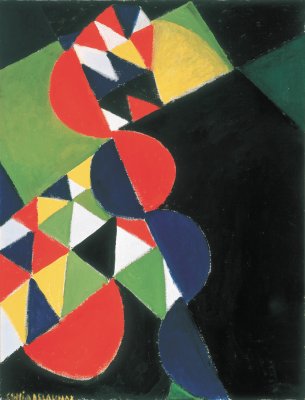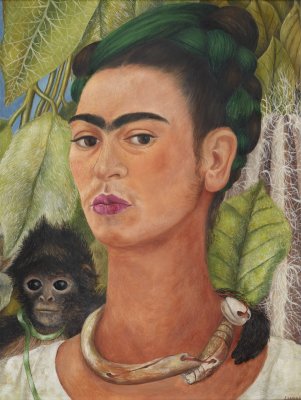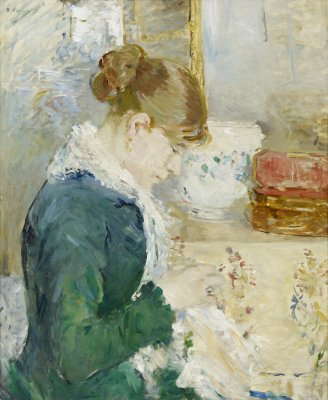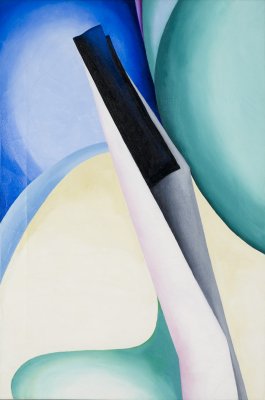 In September 1925, at the age of 18, Frida Kahlo was in a horrifying bus accident that placed her in a full-body cast for three months. Following the crash, Kahlo began to paint to alleviate her boredom. Throughout her lifetime, she made numerous self-portraits. Kahlo's furry companion in Self-Portrait with Monkey, 1938, is Fulang-Chang, a pet spider monkey whom the artist adored for his childlike and playful nature. Self-Portrait with Monkey will be on view in Menagerie: Animals on View from March 11 through June 4, 2017.
One of the few female painters associated with Impressionism, Berthe Morisot created a niche for herself with instinctive paintings of domestic life. In 1874, she was invited to exhibit in the first Impressionist exhibition and ultimately participated in seven of the Impressionists' eight group exhibitions. Morisot's Femme cousant (Woman Sewing), ca. 1879, was recently on view in 2015–2016's Monet and the Impressionist Revolution, 1860–1910 along with Rosa Bonheur's The Horse Fair.
In her earliest works, Georgia O'Keeffe sought to depict natural forces and forms. Whether abstract or more representational, her imagery remained rooted in her experience of the landscape. In 2005, the Albright-Knox hosted Georgia O'Keeffe and New Mexico: A Sense of Place, organized by the Georgia O'Keeffe Museum. The Albright-Knox owns two works by O'Keeffe; Black Spot No. 3, 1919, is among the earliest of the artist's abstract works and was recently on view in Picasso: The Artist and His Models.