American, born Venezuela, 1959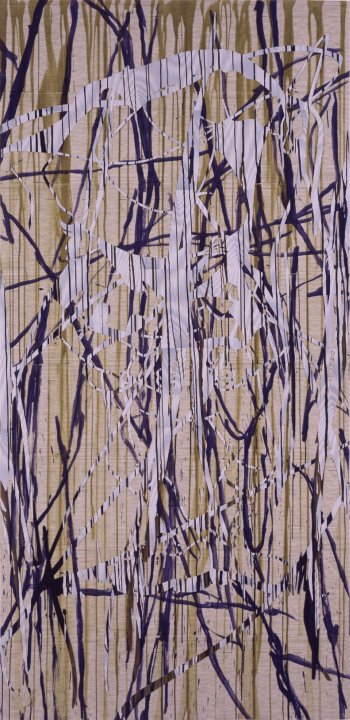 #2 DBI hails from a series of seventy-five distinct works based on two figures Arturo Herrera found in a child's coloring book: a bearded dwarf wearing a hat and a young boy playing the accordion. Herrera, who said he was attracted to the "awkward strangeness" of these figures, commissioned an illustrator to envision what they would look like from behind. From this compilation of found and newly created images, Herrera drew a number of figure studies. Next, he enlarged the images and manipulated them by cutting and tearing the paper. He then photographed the collages, projected them onto large pieces of paper, and traced them before finally applying paint and collage. The title of each finished work speaks to Herrera's process and specifies its compositional components. A number designates the place of the work within the series, a two-letter abbreviation indicates from which view—front or back—of which figure—boy or dwarf—the image is derived, and a roman numeral from one to five identifies which of his figurative studies he selected. #2 DBI, which resembles graffiti or perhaps an overgrown tangle of purple and ochre-colored brush, is thus the second work Herrera created in the series and takes as its basis the first of Herrera's figure studies of the dwarf's back.
This work and the others from the "Boy and Dwarf" series dynamically represent Herrera's practice of combining cartoon imagery and abstraction. He also cleverly engages the art-historical trope of the Rückenfigur or "back figure." This perceptual tool, popularized by nineteenth-century Romantic painter Caspar David Friedrich (German, 1774–1840), portrays the subject within the picture frame as a person seen from behind, often in a state of contemplation within a majestic landscape. However, Herrera's figure, barely visible behind skeins of color and pattern, is both looking out and in.
Label from Arturo Herrera: Little Bits of Modernism, December 12, 2014–April 5, 2015