American, born Germany, 1830-1902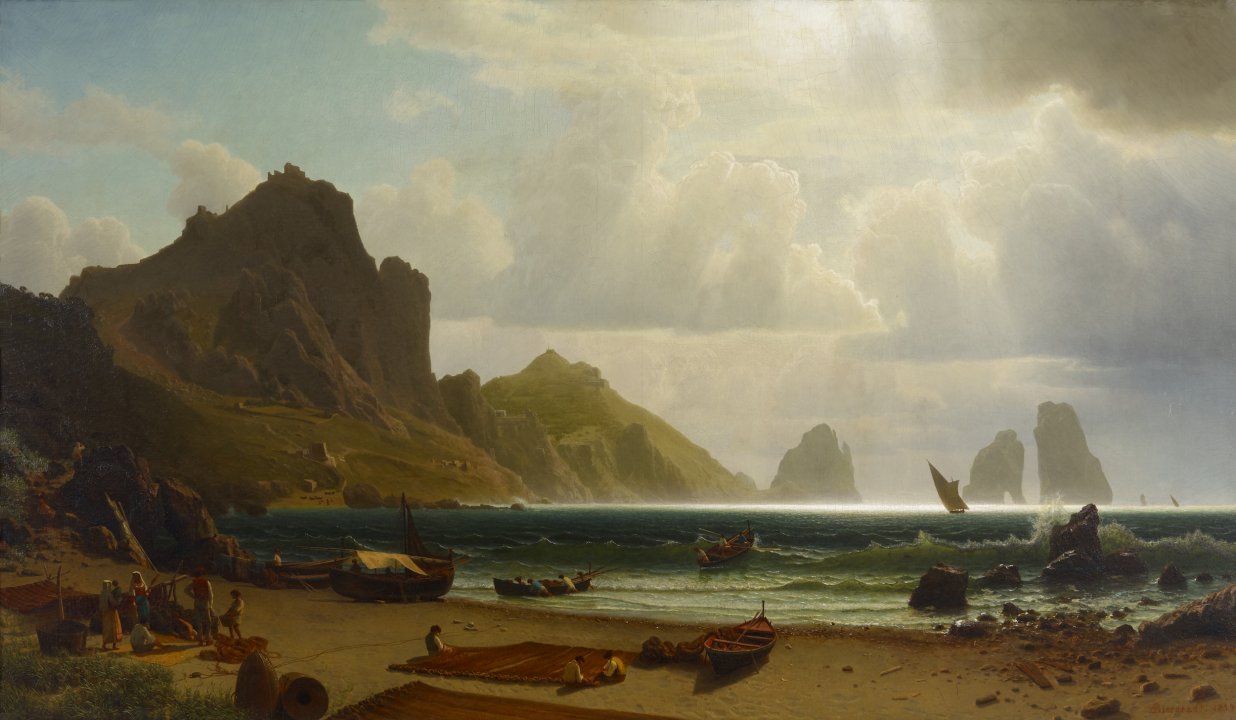 Albert Bierstadt was one of a number of nineteenth-century American artists who traveled to Italy and were inspired by the beauty of its countryside. In May of 1857, he joined fellow painter Sanford Robinson Gifford (American, 1823–1880) on a journey to Italy's southern region. Traveling primarily on foot, they often stopped to make open-air sketches. The Marina Piccola, Capri is based on preparatory drawings Bierstadt made of the smaller of Capri's two bays; however, he did not complete the painting until after having returned to the United States in spring of 1859. This image comprises multiple focal points, including a carefully detailed genre scene in the foreground and distant, mist-enshrouded rocks at the center right of the composition. Along the mountains to the left, color and an atmospheric light recede into space, whereas the transition between the water and the sky appears more abrupt. It is a lone sailboat that seems to hover on the horizon, however, that prevails as the central focus of this romantic landscape.  
In 1863, when Bierstadt presented The Marina Piccola, Capri to The Buffalo Fine Arts Academy (the parent organization of the Albright-Knox), it became both the first painting and work gifted by an artist to enter the museum's collection. At the time of his magnanimous gesture, Bierstadt wrote, "May I ask you to accept whatever is good in it, as a sincere expression of my best wishes for the true and abundant success of the Academy, and a small payment on account of the large debt which every artist owes to his profession."