Rodin: A Magnificent Obsession—Sculpture from The Iris and B. Gerald Cantor Foundation
Tuesday, April 20, 2004–Saturday, July 3, 2004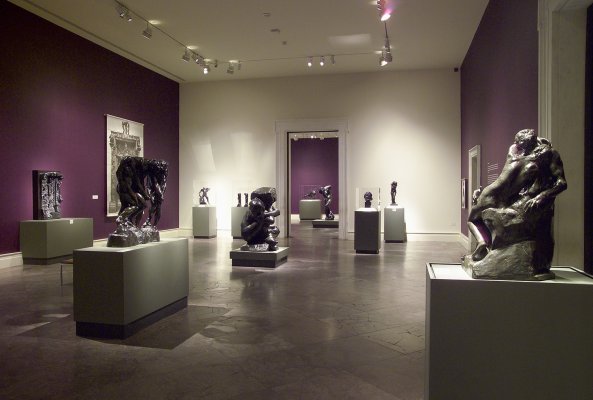 1905 Building
Rodin: A Magnificent Obsession—Sculpture from The Iris and B. Gerald Cantor Foundation featured approximately 70 bronze sculptures spanning the career of Auguste Rodin (French, 1840–1917), including many of his best-known and most-loved works such as The Thinker, The Kiss, and Walking Man.
The exhibition also featured works on paper by Rodin and by other artists who have used Rodin as inspiration for their work. All of these materials were further supplemented by two Rodin sculptures from the Albright-Knox's collection—Eve (After the Fall) and Age of Bronze—offering regular museum visitors an opportunity to see familiar works in the larger context of the artist's career.
Rodin revolutionized 19th century French sculpture. During his lifetime and posthumously, he was considered to be the most important sculptor since Michelangelo. Indeed, he is recognized as the father of modern sculpture and the single-most important sculptor of the modern period. Finding 19th century academic sculpture to be stale, lifeless, and boring, Rodin consciously sought to reinvigorate the medium by injecting passion, feeling, and emotion. He avoided the literalness of academic sculpture by introducing the modernist qualities of ambiguity and open-ended meaning whereby sculpture could have several meanings at once. He reintroduced the fragment or partial figure and also expanded the range of subjects for sculpture, beyond historical and religious figures or scenes.
This exhibition was organized at the Albright-Knox by Curator of Modern Art Kenneth Wayne.
About the Iris and B. Gerald Cantor Foundation
B. Gerald Cantor and his wife Iris Cantor built the largest private collection of Rodin works in the world: approximately 750 large- and small-scale sculptures, drawings, prints, photographs, and memorabilia. The Cantors have generously shared their collection with others through exhibitions and donations and their support of the arts was recognized in 1995 by President and Mrs. Clinton, who bestowed upon them the National Medal of Arts.
The Iris and B. Gerald Cantor Foundation was established to promote and encourage art appreciation through the support of art exhibitions, scholarship, and the endowment of galleries and sculptures gardens at major museums. Since its establishment in 1978, the Foundation has circulated various Rodin exhibitions to more than 150 venues in the United States, England, Japan, Venezuela, Italy, and Israel.
Exhibition Sponsors

This exhibition was organized and made possible by the Iris and B. Gerald Cantor Foundation. It was made possible, in Buffalo, through the generous support of M&T Bank. Additional support was graciously provided by Mr. and Mrs. John T. Elfvin.