Bodily Space: New Obsessions in Figurative Sculpture
Tuesday, April 20, 2004–Tuesday, September 7, 2004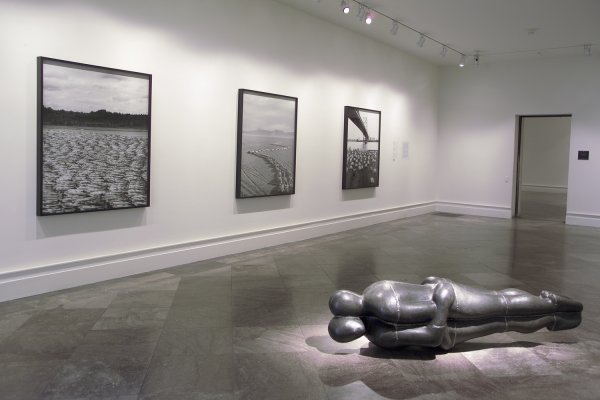 1905 Building
Bodily Space: New Obsessions in Figurative Sculpture was organized as a counterpart to Rodin: A Magnificent Obsession—Sculpture from The Iris and B. Gerald Cantor Foundation and explored the cultural relevance of the figurative tradition in art. It addressed the persistence of themes that Auguste Rodin tackled a century prior, such as the effect of space, context, and size on one's perception of the sculptural body; the fine line between humor and horror; the uneasy merging of biology and technology; and the continuing relevance of narrative drama and abstraction in contemporary art.
This exhibition featured loaned works by an international group of sculptors, many of whom had not been previously exhibited at the Albright-Knox: Janine Antoni, Maurizio Cattelan, Katharina Fritsch, Robert Gober, Antony Gormley, Duane Hanson, Ron Mueck, Juan Muñoz, Bruce Nauman, Tony Oursler, Nam June Paik, Alan Rath, Charles Ray, Peter Sarkisian, Kiki Smith, and Spencer Tunick.
This exhibition was organized by Project Curator Holly E. Hughes.
Exhibition Sponsors

This exhibition is made possible through the generous support of Hodgson Russ LLP Attorneys.