Overtime: The Art of Work
Sunday, March 8, 2015–Sunday, May 17, 2015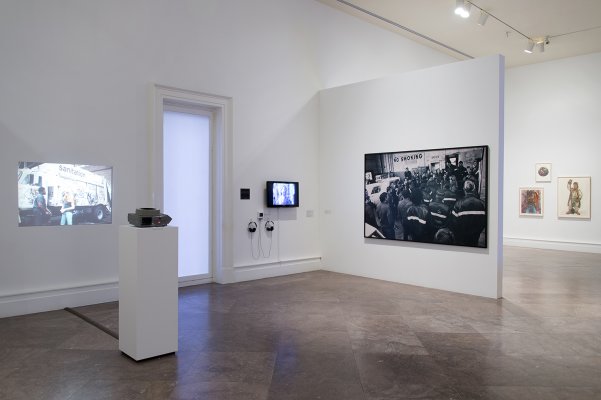 1905 Building
From its sweat, danger, and drudgery, to its heroism, daring, and pride, the labor of others has fascinated artists throughout the modern period; work is one of art's most enduring subjects. How and why artists choose to represent work, however, changed fundamentally with the mid-19th century's rise of industrialized labor, a phenomenon that coincided with the development of Realism and Impressionism, heralds of modernism in the arts. While some artists reacted with nostalgia, romanticizing traditions and artisanal trades, others eschewed such idealization, bringing dignity to workers with frank portrayals of those whose load would not be lightened by this newly mechanized era. Some artists documented norms and working conditions in a straightforward manner—simply making workers visible has itself been a strategy—while others openly advocated for greater equity and social development. In recent years, many artists have drawn attention to the embodied experience of work, finding new ways to represent often "invisible" jobs such as shipping or sanitation, or highlighting the dramatic transformations information technology has brought to our working lives.
Inspired by works in the Albright-Knox's collection—from which more than half the exhibition is drawn—Overtime: The Art of Work included paintings, sculptures, prints, photographs, and three immersive video installations. Rather than an exhaustive survey of labor's representation in modern and contemporary art, the exhibition unfolded in a series of unexpected juxtapositions, creating connections between art and artists from the late 18th century to the present.
Overtime featured works by Bernd and Hilla Becher, Honoré Daumier, Gerrit Engel, Harun Farocki, Robert Gwathmey, Tehching Hsieh, Bruce Jackson, Luis Jimenez, Josh Kline, Agnieszka Kurant, Justine Kurland, Jacob Lawrence, Thomas Le Clear, Li Xiaofei, Fred Lonidier, Berthe Morisot, Jackson Pollock, Robert Rauschenberg, Joshua Reynolds, Diego Rivera, Milton Rogovin, Mika Rottenberg, Cameron Rowland, Allan Sekula, Lorna Simpson, Harry Sternberg, Mierle Laderman Ukeles, Kara Walker, and Todd Webb.
This exhibition was organized by Curator Cathleen Chaffee.
Exhibition Sponsors

This exhibition was supported, in part, by Imagine Staffing Technology, Inc.; Lipsitz & Ponterio, LLC; and by the Western New York Area Labor Federation. Equipment and technical support provided by Advantage TI.