One Another: Spiderlike, I Spin Mirrors
Friday, March 7, 2014–Sunday, June 1, 2014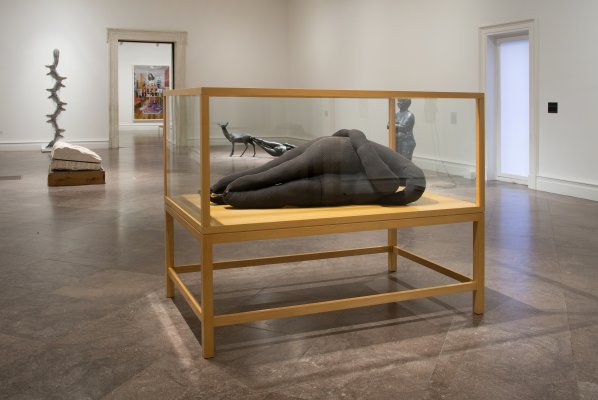 1905 Building

This exhibition, drawn primarily from the Albright-Knox's collection, considered the creative impulses of some of the most influential female artists of our time. Taking its title from a photograph by Janine Antoni (Bahamian, born 1964) and the poem "Childless Woman" by Sylvia Plath (American, 1932–1963), it focused on the reciprocal nature of relationships, both real and imagined, and the complexity of their cultivation, sustainability, and occasional destruction. Human relationships evolve within social contexts that play a critical role in defining their parameters and possibilities. The artists assembled in One Another are ever mindful of the social roles they inhabit as women and as artists, and their works provide moments for reflection upon our own relationships and humanity.
How does artistic production enable artists to better understand themselves and express their thoughts and feelings about relationships and identity? The artists featured in this exhibition offer insight on these questions through highly subjective artworks in a variety of mediums—drawing, sculpture, painting, photography, and performance. In these works the figure is often a vehicle for exploring themes of empowerment, memory, self-preservation, sexuality, and transformation. Spanning generations and cultures, the creative impulses of these artists serve as strong visual meditations on women, beauty, decay, and the restorative qualities of art.
The sculptures, drawings, photographs, and videos featured in One Another were primarily drawn from the museum's significant holding of works by Antoni, Louise Bourgeois (French, 1911–2010), and Kiki Smith (American, born 1954). The exhibition also included a selection of works by Jeanne Dunning (American, born 1960), Eva Hesse (American, born Germany, 1936–1970), Laurie Simmons (American, born 1949), and Hannah Wilke (American, 1940–1993), among others. From Bourgeois's deeply autobiographical and symbolic approach to artmaking to Smith's recurrent evocation of the natural world as an impetus for storytelling and Antoni's performance-based interpretations of her own strength and vulnerabilities, the creative impulses of these artists serve as a strong visual meditation on women and the restorative and nurturing qualities of art.
This exhibition was organized by Curator for the Collection Holly E. Hughes.
Exhibition Sponsors

This exhibition was made possible, in part, through the generous support of Mark McCain and Caro MacDonald.