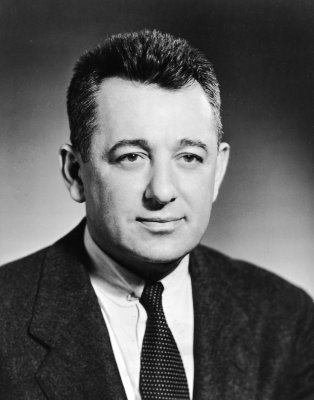 Although Gordon Bunshaft is best known for the modernist skyscrapers he designed for New York–based corporations as part of the architectural firm Skidmore, Owings & Merrill, he was especially proud of one of his smallest buildings: a 1962 expansion on the museum's campus. Born in Buffalo in 1909, Bunshaft completed both his bachelor's and master's degrees at the Massachusetts Institute of Technology before receiving a fellowship to visit several major works of modern architecture in Europe. After returning to the United States, Bunshaft joined the New York branch of the fledgling Chicago-based architectural firm of Louis Skidmore and Nathaniel Owings in 1937. During his more than 40-year tenure with the firm, Bunshaft was responsible for such landmark buildings as the Lever House, One Chase Manhattan Plaza, 9 West 57th Street, and the Pepsi-Cola Building (now 500 Park Avenue) in Manhattan; the Banque Lambert in Brussels; the National Commercial Bank building in Jeddah, Saudi Arabia; and the Connecticut General Life Insurance headquarters in Bloomfield, Connecticut. In 1988, he was awarded the Pritzker Prize, architecture's highest honor.
Early in 1958, Bunshaft was engaged to draw up new designs for a separate addition to the museum's original 1905 Building. His design called for an addition to the south that would be separate from the older structure but connected on two sides by enclosed corridors around an outdoor sculpture garden. Bunshaft's plans were approved unanimously by the museum's Board and were reproduced in the local press. The renderings and a small model were featured in an exhibition at the museum during the summer of 1958. Public approval of the design was widespread and echoed by praise from the local chapter of the American Institute of Architects. Construction of the new addition and renovations to the 1905 Building began in the summer of 1960, and the 1962 Building officially opened on January 19, 1962, with a dedication by New York State Governor Nelson A. Rockefeller.
Bunshaft and his wife, Nina Wayler, were avid collectors of contemporary art, assembling a collection comprising significant works by Jean Dubuffet, Alberto Giacometti, Fernand Léger, Joan Miró, and Isamu Noguchi. Throughout the 1960s and 1970s, the Bunshafts donated notable works by Jean (Hans) Arp, Alexander Calder, Léger, Miró, Henry Moore, and Antoni Tàpies to the museum's collection.
Last updated 2019