Standing Ovation
Saturday, November 5, 2022
5 pm EDT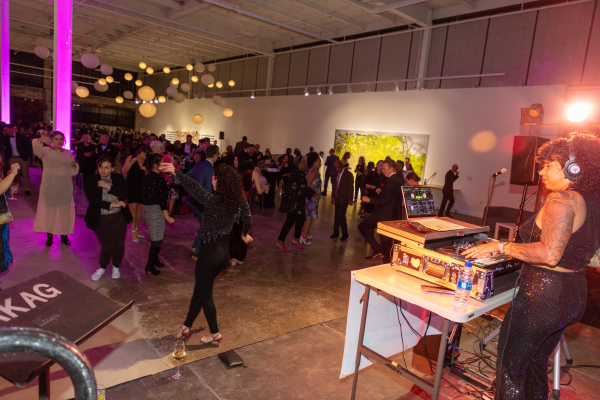 Albright-Knox Northland
612 Northland Avenue, Buffalo, New York 14211
Presented by

This year, the Buffalo AKG Art Museum will reinvent its signature fall gala with a festive evening that honors the talented artists featured in the exhibition program at Albright-Knox Northland.
Art will be the life of the party as the museum welcomes Buffalo artists-in-residence Julia Bottoms, Tricia Butski, Max Collins, Fotini Galanes, Rachel Shelton, and Phyllis Thompson as honorary chairpersons of the event. This talented artist cohort from the 2021 exhibition Hervé Tullet: Shape and Color will transform Albright-Knox Northland into a creative and delicious tour. Together with the master culinary team of Delaware North / Patina Restaurant Group, they will design an unforgettable evening that shines a spotlight on the Buffalo AKG's commitment to merging global, regional, and local talent with our hometown community.
Special performances by
DJ Lisa Lux–B.Flo Girls
Curtis Lovell
Henri Star Muhammad
Dress in your most colorful cocktail attire and explore the stations of innovative cuisine that commemorates each exhibition presented at Albright-Knox Northland. Every artist from the Albright-Knox Northland exhibition program will be invited. Join us in a standing ovation!
All proceeds will benefit the Buffalo AKG Art Museum as it prepares to welcome you back to a newly restored campus.
Valet parking available.
Reservations are limited. Buy Tickets or Sponsorships
For questions regarding tickets or sponsorship packages, please contact Katie Homer at khomer@buffaloakg.org or 585.746.6937 (cell), or Kate Peck at kpeck@buffaloakg.org.
For general questions regarding event logistics and program, please contact the Events Team, Tori Claflin and Beth Getman, at rsvp@buffaloakg.org, 716.270.8204, or 716.270.8289.
Chairpersons

Roscoe Henderson
Rachelle and Kevin Robinson
Honorary Chairpersons

Julia Bottoms
Tricia Butski
Max Collins
Fotini Galanes
Rachel Shelton
Phyllis Thompson
Committee

Jonathan Amoia
Carly and Joe Battin
Cynthia and Frank Ciminelli
Ernestine Green
Asantewa K. Holley
Kate Todd Hubbell and James Hubbell
Alice and Jeremy Jacobs, Jr.
Genevieve and Benjamin Kicinski
Jody Lippes
Francesca Mesiah
Craig Reilly and Caitlin Corr Reilly
Misha J. Russo
Tina Sabuda and Chris Bihary
Sonja and Janne Sirén
Nicole and Steve Swift
Heather and Jon Williams
Kayla Zemsky and Michael Myers
Sarah Williams and Bob Bojdak
Benefactors

Alice and Jeremy Jacobs Jr.
Roger and Heather Hungerford, on behalf of Say Yes Buffalo
Patrons

Anonymous
Susan O'Connor Baird and Bruce Baird
Charlie and Penny Banta
O'Donnell & Associates
The OSC Charitable Foundation
Tina Sabuda and Chris Bihary
Sandhill Investment Management
Sarah Williams and Bob Bojdak
Supporting

Arc Building Partners
Carly and Joe Battin
Ann Bonte and Brent Baird
The Children's Hospital of Buffalo Foundation
Roscoe Henderson / Rachelle and Kevin Robinson
Hodgson Russ LLP
Roberta and Michael Joseph
LifeStorage
M&T Bank
Sanderson Wealth Management LLC
Nicole and Steve Swift
Special Gifts and Arrangements

Yves-Richard Blanc, Blanc Photographie
Robert K. Freeland
Sarah French
James Howell Foundation, Inc.
Anthony M. Masiello
Schutte Hospitality Group
Three-Ring Services, Justin Sircus
Kate Todd Hubbell
West Herr Automotive Group
Heather and Jon Williams
Mary M. Wilson