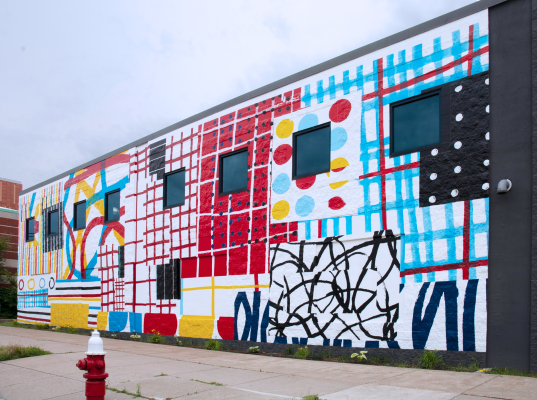 Location: 847 Main Street (Get Directions)
Traits points taches gribouillage springs from the imagination of Hervé Tullet, a multifaceted artist and world-renowned children's book author. In this, his second permanent mural ever installed, the artist limited himself to a set of self-imposed rules designed not to restrict his imagination but to spur creative exploration. The lines, dots, splotches, and dabs you see define the core of Tullet's visual vocabulary and foreground this mural's composition: restrained by a palette of primary colors yet bursting with bold, exuberant expression.
Though the COVID-19 pandemic disrupted the execution and production of this work, this mural testifies to Tullet's commitment to encourage others to participate in creating. From his studio France, Tullet collaged together photographs of work included in the exhibition at Albright-Knox Northland—Hervé Tullet: Shape and Color—to design a mural that integrates some of the central components of his wide-ranging artworks.
Tullet's work is at its most meaningful when it is activating others and encouraging play. Motivated by his deep belief in working with community partners, Tullet shared his design for the mural with our partners at Buffalo Arts Studio, who collaborated with students in the Jump Start program, under the guidance of Andrea Pawarski, to complete the artwork here in Buffalo. The students used Polytab, a non-woven material that is easily transported and sectioned, to create the work in their studio space. They arranged, prepared, further developed, and painted the mural over the course of two intensive weeks at Buffalo Arts Studio.
The result of this mural, like many of Tullet's other artworks, is a shared experience far greater than the sum of its constituent parts. The artist and his student collaborators used simple elements—primary colors, simple shapes, spontaneous gestures—to create a work of unadulterated joy, brimming with audacious movement that seeks to inspire the creative capacity in all of us.
Additional funding for programming is provided by an anonymous donor.
The Albright-Knox's exhibition program is generously supported by The Seymour H. Knox Foundation, Inc.
Initiative Sponsors

The Public Art Initiative was established and is supported by leadership funding from the County of Erie and the City of Buffalo.