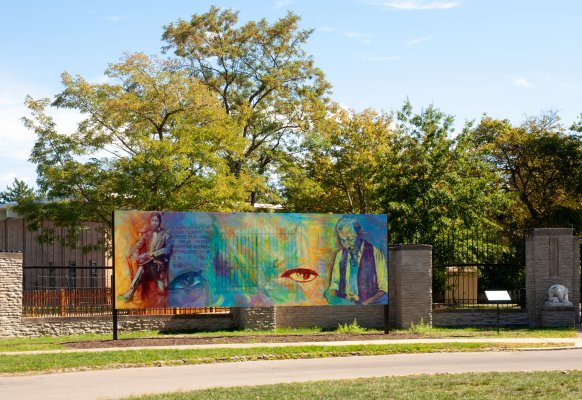 Location: Park Road (Get Directions)
James Cooper III's mural—created in collaboration with the late local historian Christine Parker—celebrates the life and legacy of John Brent, Buffalo's first African American architect and a notable civic leader.
Born in Washington, D.C., to an architect father, Brent went on to study at the Tuskegee Institute and what is now Drexel University before moving to Buffalo in 1912 to begin his career as a draftsman. After working for a succession of local firms, Brent established his own practice out of his home at 99 Lonsdale Avenue in Buffalo's Hamlin Park neighborhood in 1926. Not long after, he received his first major commission for the Michigan Avenue Branch Y.M.C.A. (completed 1928, demolished 1977). In addition to significant national commissions, including the Founders Library and other buildings at Howard University in Washington, D.C., Brent also completed numerous additional projects throughout Western New York, including a Y.M.C.A. summer camp in Wales Hollow.
Between 1935 and his retirement in 1957, Brent worked on a number of projects for the City of Buffalo, most notably the design, planning, and implementation of more than sixteen new or expanded facilities and exhibits at the Buffalo Zoo. While the majority of these projects are no longer extant, his entrance court at the corner of Parkside Avenue and Amherst Street (1935–38) still stands and was honored with a listing on the National Register of Historic Places in 2013. 
In addition to his work as an architect, Brent served his community as the first president of the Buffalo branch of the NAACP and later as a founding member of what is now the New York State Division of Human Rights. 

Public Art Initiative Sponsors

The Public Art Initiative was established and is supported by leadership funding from the County of Erie and the City of Buffalo.