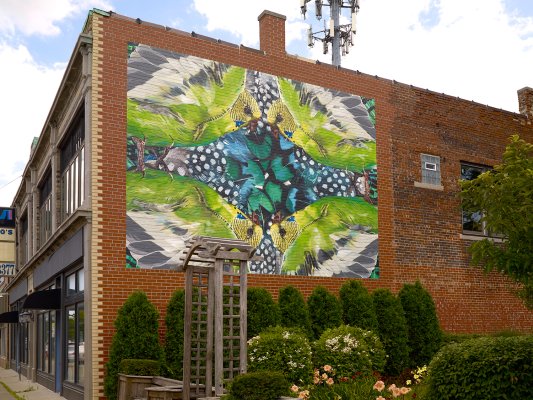 Location: 2303 Main Street (Get Directions)
Overlooking a small green space adjacent to Burgio's TV at 2303 Main Street, Augustina Droze's mural builds on imagery she has previously explored in her studio-based painting practice. However, this is the first time that the artist has realized these ideas on a massive scale and as a public-oriented project. Based on the riotous coloring and innate artistry of bird and butterfly wings, Droze's symmetrical patterning holds in tension the fragile balance between beauty and decay endemic to the natural world.
Over the past decade, Droze has realized several notable projects in Western New York—including Global Voices, created in cooperation with Buffalo Public School students for the corner of Grant Street and Auburn Avenue, and Ray of Light, honoring the life of Jerald (Dee Dee) Goldsmith in Masten Park. She has also worked extensively internationally, including on murals in Colombia and India, where Droze collaborated with local artists on projects addressing issues of equality, class, and gender, especially the challenges faced by young women.
Initiative Sponsors

The Public Art Initiative was established and is supported by leadership funding from the County of Erie and the City of Buffalo.