We're no stranger to letters and messages, phone calls, and—increasingly—comments and tweets. Still, it is a little unusual for us to receive 100-year-old postcards in the mail, but that's what Lowell Joerg does.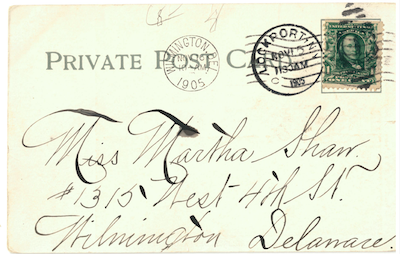 Earlier this summer the museum received a postcard dating back to 1905, the year the Elmwood Avenue campus opened its doors. With it was a letter: "Some time ago I was at an antique store and found this circa 1905 picture card of you beautiful building. I hope you enjoy it. Lots of changes, I suppose." It was from Lowell Joerg, who has made it a passion to find and return postcards like these.
His hobby began in an antique store in Minnesota. Joerg spotted a card from 1907 depicting a Pennyslvania church, which he sent back to the church on a whim.
"My dear wife, now passed, used to laugh at me and say, 'If you hear from those folks, you'll have to take me to lunch,'" writes Joerg. 
The church happened to be celebrating its centennial anniversary and was overjoyed with the unexpected parcel. Their reaction started Joerg off on a campaign: sending these historical postcards back to those who might appreciate them.
Like us, Lowell Joerg, who turned ninety-four in June, has witnessed his fair share of changes over the past century or so, which is why these little reminders of the past are so important. He calls it a "re-distribution of happiness," and he's been doing it for thirty years. As Joerg says, "Our world sure needs it."
That might have been the intent of the person who first sent the Albright Art Gallery postcard, as well, who tells a friend in Wilmington, Delaware, about the weather in Lockport: "Oh that good old summertime. Yes warm. We have an inch snow, cold here."
While a lot is changing before our eyes on Buffalo AKG's campus, it's good to know that some things never do.
Joerg is a resident of Oaks Assisted Living in Stockton, California, where he says he is still going strong "as far as I know." If you'd like to help in his redistribution efforts you can send pre-1935 postcards to the man himself: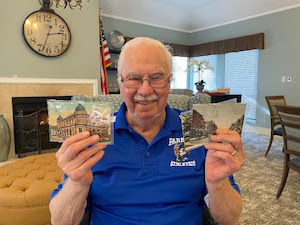 Lowell Joerg
6725 Inglewood Avenue
Stockton, CA 95207