The Buffalo AKG recently acquired a series of works by G. Peter Jemison. The painting Dried Geometry, 2005 was acquired through the generosity of the Seneca Gaming Corporation and the Seneca Nation. Four additional works acquired by the museum, Long House Winter I, 2000, Free Leonard Now, 2005, Fur Trader 2, 2012, and No Fracking!, 2013, show Jemison's signature use of paper bags to explore his relationship with the natural world and contemporary social issues. Curator of Public Art Aaron Ott dives into Jemison's life and the meaning of his work.
---
By Curator of Public Art Aaron Ott
For many of us, nothing better symbolizes disposability than a brown paper lunch bag. G. Peter Jemison, however, found a deeper insight into the bag as a commuter in New York City while he was Curator of the gallery of the American Indian Community House, a community-based organization that works to promote the well-being of the American Indian community, particularly in urban settings. "I noticed that the common denominator for those of us who traveled on the subway from Brooklyn to Manhattan every day was that we carried some kind of bag—a plastic bag, a shopping bag, a briefcase, a handbag, a lunch bag, or whatever," he states. Jemison did a quick drawing on a lunch bag. He continues, "I started thinking about Indian bags made of all sorts of materials and their significance to us."
The bags became something of a signature for Jemison. Because they are not only flat surfaces either, the content of the works unfolds like that of a book: each side a chapter, each chapter a full vision and also part of a larger whole. Issue-oriented and autobiographical, Jemison's are works of social commentary that also reflect his relationship to the natural world.
Jemison, a Seneca member of the Heron Clan, grew up just outside the Cattaraugus Reservation, enrolling in Buffalo State College in 1963 and spending a semester at the University of Siena in Italy the following year to study for a career in art education. Not only an artist, but an educator, a curator, and a faithkeeper, Jemison has sought to convey Seneca traditions and histories to broad audiences. 
Until his retirement in February of 2022, Jemison served as the Historic Site Manager of Ganondagan State Historic Site, the original location of a seventeenth-century Seneca town, a National Historic Landmark listed on the National Register of Historic Places. Jemison credits his activities like maintaining Ganondagan's nature trails as having reshaped his art. Communing with nature has moved Jemison to include more recognizable landscapes and wildlife into his previously abstract visions. In addition to compositional shifts, his work with the land has led him to include history-telling, story-telling, and specific autobiographical elements in his artworks.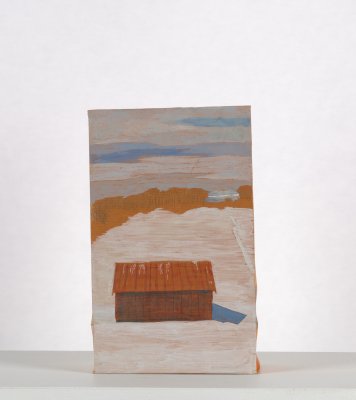 The earliest Collection work, Longhouse Winter I (2000) contains such autobiographical references. Longhouses are humble, functional buildings, providing shelter and relief from the cold. The shape recalls the artist's studio near Ganondagan, where isolation offers long stretches of meditation on the barren land, and plenty of time to focus on artmaking. This particular bag is rendered tenderly: the humble building sits in a field of snow, alone but not far from the forest edge, the sky the same color as the snow and broken only by a light blue streak. A large, beautiful tree graces another side. The relationship is direct: longhouses need tall trees to be fabricated, but those same trees need time to develop in order for their purpose to be met; a symbiotic exchange between man and nature. 
Free Leonard Now (2005), Fur Trader 2 (2012), and No Fracking! (2013) are examples of Jemison's bag drawings that turn from the autobiographical to the political. In Free Leonard Now, the artist takes up the cause of imprisoned Native American activist Leonard Peltier. Peltier was convicted of murder after a killing on the Pine Ridge Indian Reservation in South Dakota, although supporters consider Peltier a political prisoner. The bag depicts the familiar sight of activists protesting his imprisonment as well as the young Peltier in traditional garments of the Turtle Mountain Band of Chippewa Indians.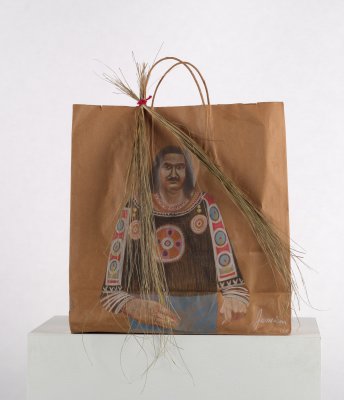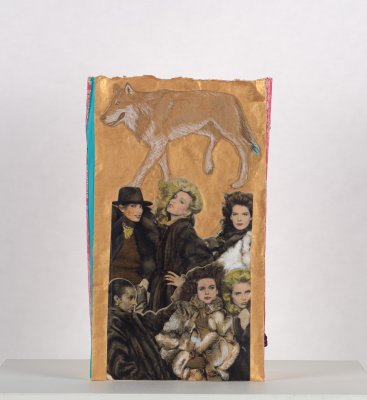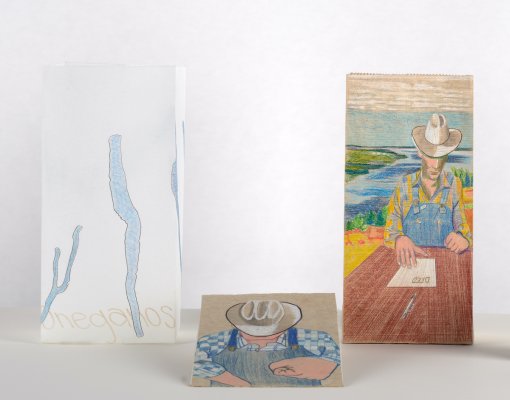 In Fur Trader 2, Jemison pointedly tackles historic and contemporary matters of cultural and economic trade. One side depicts a wolf making direct eye contact with viewers. The other large side relates the historic tragedies of the fur trade to its extractive tendencies. Though the bag works are meant to be displayed as stationary objects, they often include additive flourishes, in this case beads and bells, suggesting the potential for action or the prospect of sound. 
No Fracking! consists of two bags in dialogue. One side of a brown bag practically screams "No Fracking," with the 'g' missing from the upward cast of the word, an urgent but colloquially accented call. A man in overalls and a large cowboy-style hat casts his gaze down at a "deed." The other side depicts a violent volcano-like eruption of fire from the ground. A white bag consisting of mostly empty space depicts a series of finger-like lakes, spaces which may be contaminated as part of the industrial practice. A single word, oneganos, the Seneca for waterlines, is scrawled across the bottom of one side. 
With Dried Geometry (2005), a work on canvas acquired through the generosity of the Seneca Niagara Resort and Casino, Jemison depicts a barren trellis situated in the cold-white landscape, the horizon glowing in polar blues and purples. The empty wooden frame of the trellis, along with the lonely stalks of growth long covered in snow, tell a story of stewardship and a connection to the cycles of nature. Specifically, this trellis held the companion crops of corn, beans, and squash, known to many Native American communities as "The Three Sisters." When planted together, they help one another thrive and survive, providing a natural symbiosis for humans, crops, and wildlife alike.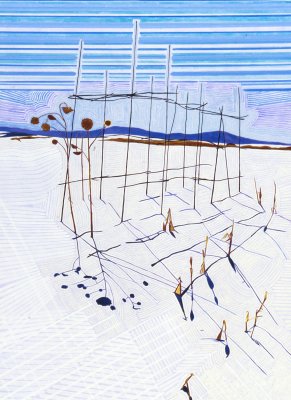 Jemison's art embodies orenda, the traditional Haudenosaunee (Iroquois) belief that every living thing and every part of creation contains a spiritual force. The vibrancy of the linework throughout Dried Geometry seems to emanate this force. The painting speaks to the fragile balance we must maintain between life and land. Even as the work depicts a scene that may seem devoid of life, with this painting Jemison implies that carefully cultivated relationships with the natural world rewards us in time.