Belarusian, born Vitebsk, Russia (now Belarus), active in France, 1887-1985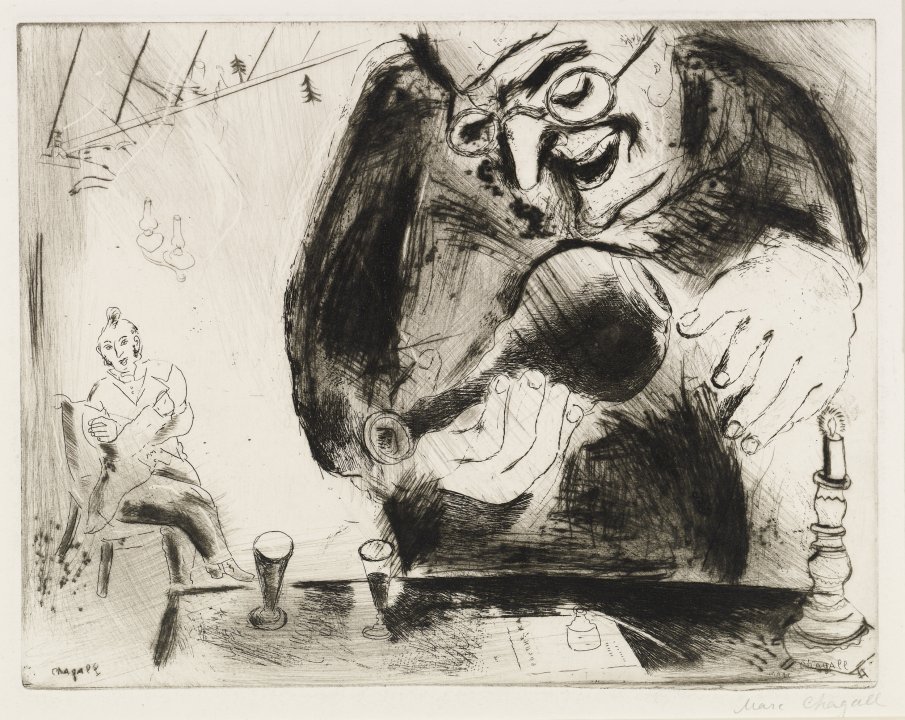 Although Marc Chagall is largely associated with Paris, where he spent most of his career, the artist always maintained an interest in the culture of his homeland in Russia (now Belarus). It was this interest that led him to the work of writer Nikolai Gogol (Russian, born present-day Ukraine, 1809–1852). In 1923, after beginning to experiment with printmaking the year before, Chagall embarked on the task of producing etchings for Gogol's novel Dead Souls, a project he would work on until 1948. It was the artist's first book collaboration with renowned publisher Ambroise Vollard (French, 1867–1939).
 
Gogol is regarded as one of literature's greatest satirists for his ability to capture the darker side of Imperial Russia. First published in 1842, Dead Souls inaugurated the tradition of the Russian novel, developing the form's characteristic romantic yet surreal tone and tragic sense of humor. In his prints, Chagall channels Gogol's ability to create characters that inspire pity while at the same time serving as comic relief. Here, Chagall depicts Pavel Ivanovich Chichikov, the charmingly deceitful collector of dead souls, with a comically maniacal expression, pouring a drink for presumably the next victim of his scheme. Chichikov was meant to be the incarnation of poshlost, an untranslatable word that has been defined in English as self-satisfied vulgarity. He is just one of a cast of characters based exaggerations of the negative traits and vices that Gogol identified and satirized.
Label from Stop Me If You've Heard This One: Humor and Satire from the Collection, November 19, 2016–March 19, 2017
Other Works by This Artist