Kara Walker: The Emancipation Approximation
Saturday, October 25, 2003–Sunday, February 8, 2004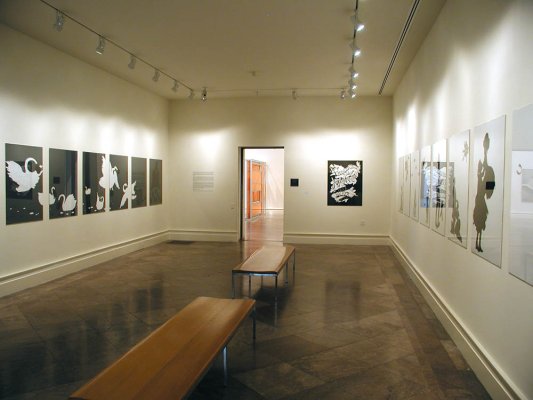 1905 Building
Kara Walker utilizes the Victorian craft of black paper cutout to pose provocative questions about race in America. Beautiful and elegant, her silhouettes seduce with their simplicity and simultaneously highlight the way that stereotypes obscure complex histories. The Emancipation Approximation, a series of 27 screen prints, is an ironic interpretation of Abraham Lincoln's Emancipation Proclamation of 1863 that formally abolished slavery.
Although Walker's complicated narratives defy definite interpretation, they deal with difficult and compelling social problems such as racism and sexism and can be shocking, disturbing, and to some, offensive. Her stories are open-ended, and force each viewer to interpret them based on his or her own history, personality, and prejudices. Tough and provocative, Walker's art elicits contemplation of issues from America's past and their legacies.
Thelma Golden, Deputy Director for Exhibitions and Programs at The Studio Museum in Harlem, spoke about Walker's work on November 16, 2003. Her lecture focused on the museum's recent acquisition of The Emancipation Approximation, in which images of illicit sex, masters, slaves, swans, and severed heads combine in a narrative that can perhaps be understood as a reflection on the elusiveness of freedom itself.
This exhibition was organized by Associate Curator of Contemporary Art Claire Schneider.
Exhibition Sponsors

This exhibition was made possible through the generous support of Deborah Ronnen Fine Art.