Eye to Eye: Looking Beyond Likeness
Sunday, March 8, 2015–Sunday, May 17, 2015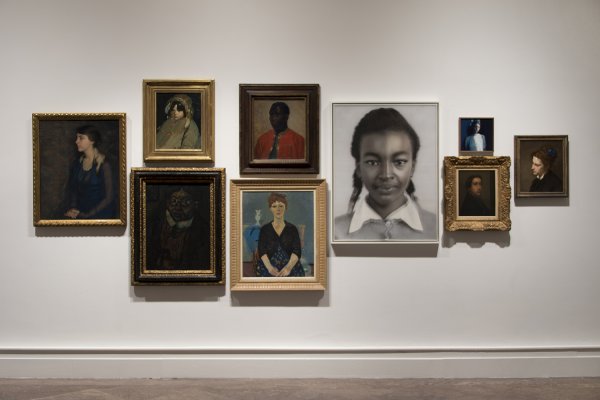 1905 Building
Drawn entirely from the Albright-Knox's extensive collection of portraits, Eye to Eye: Looking Beyond Likeness features more than 65 works in painting, photography, sculpture, and video. This comprehensive exhibition of captivating depictions from the late 18th century to post-modernity explores the evolution of Western portraiture by delving into the complex network of social conventions and artistic practice that have shaped the genre. History is rife with traditional images of royal and bourgeois culture that exemplify an artist's ability to characterize the beauty, power, virtue, and wealth of the sitter. Yet this history also boasts a break with convention as artists begin to explore more innovative ways to embody individuality. Turning to their inner circles and unknown models, they began, at the same time, to reconsider composition and employ new media.
From the time-honored and familiar to the provocative and experimental, visitors are invited to engage in a visual dialogue between past and present. Alluring portrayals, such as renowned Romantic portraitist Sir Thomas Lawrence's (British, 1769–1830) luminous rendering of a seventeen-year-old Rosamond Croker—which was described in The Times on May 11, 1827, as "replete with life, spirit, and character"—are juxtaposed with more abstract and conceptual works. Contemporary artists continue to redefine the vernacular style of portraiture; however, the genre is now embedded with concepts of identity and transformation that consider not just the social mask, but ways to embody what it means to be human.
Featured artists include George Wesley Bellows (American, 1882–1925), Chuck Close (American, born 1940), John Singleton Copley (American, 1738–1815), Edgar Degas (French, 1834–1917), Richard Diebenkorn (American 1922–1993), Thomas Eakins (American, 1844–1916), Thomas Gainsborough (British, 1727–1788), Felix Gonzalez-Torres (American, born Cuba, 1957–1996), Norman Rockwell (American, 1894–1978), Cindy Sherman (American, born 1954), Gillian Wearing (British, born 1963), and Carrie Mae Weems (America, born 1953), among others.
This exhibition is organized by Godin-Spaulding Curator & Curator for the Collection Holly E. Hughes.
Exhibition Sponsors

Equipment and technical support provided by Advantage TI.