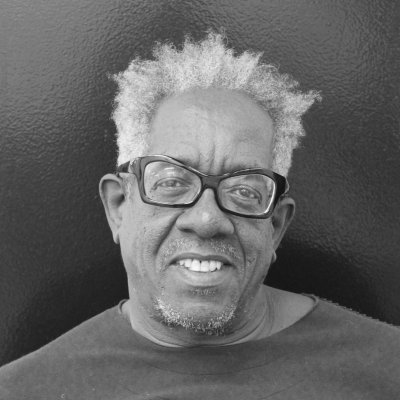 Stanley Whitney was born in Bryn Mawr, near Philadelphia, in 1946 and lives and works in New York City and Parma, Italy. He holds a BFA from Kansas City Art Institute as well as an MFA from Yale University and is currently professor emeritus of painting and drawing at Tyler School of Art and Architecture, Temple University. Select solo exhibitions include FOCUS: Stanley Whitney at the Modern Art Museum of Fort Worth, Texas (2017) and Stanley Whitney: Dance the Orange at the Studio Museum in Harlem, New York (2015). Whitney has also been included in many prominent group shows, such as Inherent Structure, Wexner Center for the Arts, Columbus, Ohio (2018); documenta 14, Athens, Greece, and Kassel, Germany (2017); Nero su Bianco, American Academy in Rome, Italy (2015); Outside the Lines: Black in the Abstract, Part 2: Hard Edges/Soft Curves, Contemporary Arts Museum Houston, Texas (2014); Reinventing Abstraction: New York Painting in the 1980s, Cheim & Read, New York (2013); and Utopia Station, 50th Venice Biennale, Italy (2003). He has been awarded the Robert De Niro, Sr. Prize (2011), the American Academy of Arts and Letters Art Award (2010), and a Guggenheim Fellowship (1996). Whitney's work is included in public collections around the world, including the Albright-Knox Art Gallery; the Metropolitan Museum of Art, New York; the Whitney Museum of American Art, New York; the Long Museum, Shanghai; Art Gallery of New South Wales, Sydney; and National Gallery of Canada, Ottawa. 
 
---
Stanley Whitney: The Italian Paintings
Collateral Event at the 59th International Art Exhibition—La Biennale di Venezia
Presented by the Future Buffalo AKG Art Museum
Palazzo Tiepolo Passi, Venice, Italy
April 23–November 27, 2022 
On view at Palazzo Tiepolo Passi as an official Collateral Event at the Biennale Arte 2022, Stanley Whitney: The Italian Paintings is a look at Whitney's practice over the last three decades seen through an Italian lens. Stanley Whitney: The Italian Paintings is not only the first time the New York–based painter will present works that have been exclusively created in Italy, but it is also the first opportunity to experience these works together in their cultural birthplace. The title refers to a body of work that encompasses pivotal transitional paintings from the time Whitney spent in Rome in the early 1990s, through to the work created during subsequent summers in his studio in Parma. The presentation considers, for the first time, the important influence of Italian art and architecture on Whitney's oeuvre. The exhibition is presented by the future Buffalo AKG Art Museum and co-curated by Cathleen Chaffee, Chief Curator, Albright-Knox Art Gallery, and Vincenzo de Bellis, Curator and Associate Director of Programs, Visual Arts, Walker Art Center, Minneapolis, Minnesota, and will be accompanied by a catalogue to be published in Summer 2022. Stanley Whitney: The Italian Paintings precedes a major survey exhibition at the Buffalo AKG in Buffalo, NY, USA in 2024, organized by Chaffee.
Stanley Whitney: The Italian Paintings at Palazzo Tiepolo Passi is supported by Lisson Gallery.
---
Stanley Whitney
Buffalo AKG Art Museum, Buffalo, New York
Spring 2024
Stanley Whitney's work will be the subject of a major retrospective survey exhibition at the future Buffalo AKG Art Museum in 2024. Conveying the breadth of Whitney's practice throughout the decades, the exhibition will include paintings beginning with his works from the early 1970s and extending to his most recent canvases, as well as a robust installation of drawings, prints, and sketchbooks. David Hammons once asked about Whitney's work: "How could something be so quiet and have so much to say?" This exhibition will give visitors their first opportunity to experience the full scope of Whitney's practice contextualized in relation to his artistic community as well as his influences—from the history of art and architecture to quilting, textiles, and jazz.