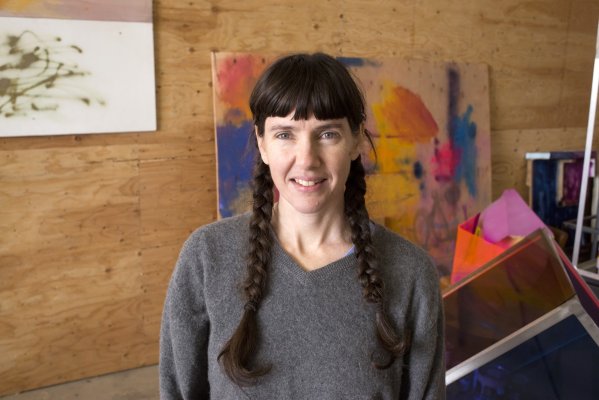 Sarah Braman (she/her) makes sculptures that serve as monuments to everyday life. Interested in the interplay between sensory experience and emotional resonance, Braman combines elements from scrapyard vehicles, old buildings, or furniture with translucent volumes of color and light. The artist's distinctive color palette permeates the work, from spray paint on found objects and hand-dyed fabric to the expansive nature of the glass forms. In their formal construction, her works relate to the legacies of Minimalism and Color Field painting. Defying a narrow modernist definition, Braman's works suggest themes of home, family, and nature, with their joyful immersion in lived experience and emotional life.
Braman was born in 1970 in Tonawanda, New York and currently lives and works in Amherst, Massachusetts. She commutes to New York City most weeks to work with CANADA, an artist-run gallery where she has been a managing partner for twenty-one years.
Braman earned a BFA from Maryland Institute College of Art in Baltimore and an MFA from Tyler School of Art in Philadelphia. Her solo exhibitions include True Blue Mirror, with Ellen Berkenblit, McEvoy Foundation for the Arts, San Francisco, California (2019); Growth, Mitchell-Innes & Nash, New York (2019); and Here, Marlborough Contemporary, London (2017). Braman has also participated in group exhibitions at Crystal Bridges, Bentonville (2019); MASS MoCA, North Adams (2017-18); and Kunsthalle Helsinki, Finland (2016). Braman currently has outdoor work installed for public view at Art Omi in Ghent, NY and University of Houston, TX. In 2013, she was the recipient of the Maud Morgan Prize from MFA, Boston.