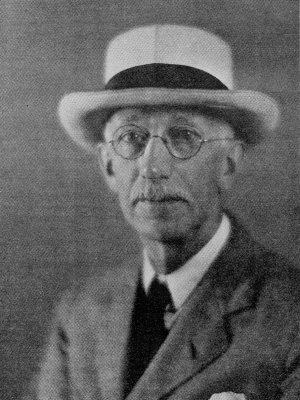 After graduating from Cornell University in 1878, Edward B. Green moved to Buffalo and, in 1884, formed a partnership with William S. Wicks. Green & Wicks quickly became one of the most prolific architecture firms working in Western New York and Southern Ontario. In Buffalo, their designs notably include the Market Arcade Building, Main Street, 1892; Buffalo Savings Bank, 1901; and the Albright Art Gallery, 1905.
One of Green's most devoted clients was John J. Albright, who first commissioned Green & Wicks around 1890 to design a library in Scranton, Pennsylvania, as a memorial for Albright's father. In 1904, Green & Wicks were brought in to design a number of buildings for the newly formed Ontario Power Company, where Albright was president. Around the same time, Albright and the other directors of the Buffalo Fine Arts Academy selected Green & Wicks as architects for the institution's first permanent home. Green would stay involved with the museum beyond the structure's completion, becoming a long-serving member of its Board and serving as Board president in 1915.
The success of Green & Wicks's neoclassical design for the Albright Art Gallery led to later commissions for two museums in Ohio: the Toldeo Museum of Art in 1912 and the Dayton Art Institute in 1930.
Last updated 2019