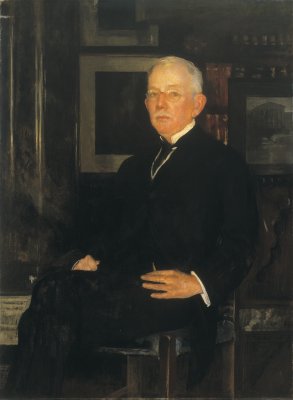 Born in Virginia in 1848, John J. Albright moved to Buffalo in 1883 as part of a westward expansion of his wholesale coal business. After settling in the area, he expanded his commercial interests beyond coal and became involved with the first institutions to harness Niagara Falls to generate hydroelectric power. He also facilitated negotiations to relocate the Lackawanna Steel Company, later a part of Bethlehem Steel, from Scranton, Pennsylvania, to Buffalo in 1899.
Beyond having an astute vision for the direction of industrial growth in this area, Albright was a great force for cultural and social development in Western New York. He funded the first community house, brought William Nichols to Buffalo to found a school, and became closely involved with the Buffalo Fine Arts Academy. In 1887, he was elected to the Academy's Board of Directors, and he served as President from 1895 to 1897. He remained on the Board until 1910.
On January 15, 1900, Albright announced his desire for the institution to build "a permanent and suitable home . . .  exclusively devoted to art," and donated funds for construction. The Greek revival building, designed by Edward B. Green of Green & Wicks and named the Albright Art Gallery in honor of its benefactor, opened on May 31, 1905. Albright further contributed $10,000 a year for five years to a maintenance fund for the museum.
Last updated 2019