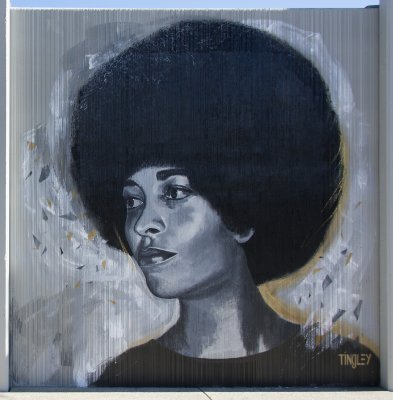 Angela Davis is an outspoken advocate for the oppressed and exploited, and has written extensively on civil and human rights with characteristic boldness and clarity. Davis has dedicated her life to examining the complex systems that perpetuate injustice and continues to offer powerful, blunt, and audacious commentary on the ongoing struggle for political and cultural freedoms. Her work reveals the damaging ties between culturally pervasive notions of race, gender, and class and institutional and social injustice. Davis applies historical insights to present notions of freedom in order to explore ways in which we can form new and healthy dialogues and develop creative and even radical plans for collective freedom and true democracy.
Davis rose to international prominence during the 1970s for her unwavering pursuit of racial and economic justice through radical political action. During her time as a graduate student at the University of California, San Diego, she began to orient both her academic studies and personal politics toward communism. For Davis, communism's vision of societies run by and for working people offered a path toward liberation and economic equality for African Americans and other minorities. She was also active with both the Student Nonviolent Coordinating Committee (SNCC) and the Black Panthers, though she became disillusioned with both organizations because of what she considered to be their unequal treatment of women.
Davis was at one point infamously named as one of the FBI's most wanted individuals when she was implicated in a deadly attack that resulted in the death of a judge in 1970. Based on her relationship to the offenders and other circumstances, Davis was charged with aggravated kidnapping and first-degree murder. Davis maintained her innocence, opened the defense to her case herself, and was ultimately acquitted of all charges. Today, due in part to her own experiences during incarceration, Davis remains committed to challenging what she views as an inherently racist penal system designed to exploit poor, immigrant, and racially marginalized communities. Davis is the subject of the acclaimed documentary Free Angela and All Political Prisoners. She retired from the University of California, Santa Cruz as a Distinguished Professor Emerita in 2008, and she continues to write and speak on race-, class-, and gender-based oppression, especially in the criminal justice system.
Last updated 2019