Sarah Braman: Finding Room at Frank Lloyd Wright's Graycliff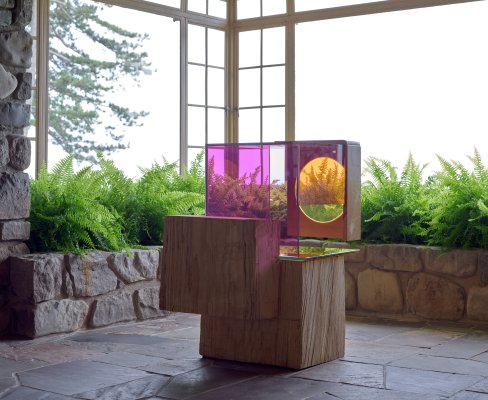 On Saturday, July 30, 2022, the Buffalo AKG Art Museum will open a new installation of artworks by artist Sarah Braman (American, born 1970) at Frank Lloyd Wright's (American, 1867–1959) Graycliff. The exhibition, titled Sarah Braman: Finding Room, is the first collaboration between the Curatorial and Public Art departments to take place outside of the Buffalo AKG Art Museum campus. The exhibition will open July 30, 2022. Artworks inside the house will remain on view through March 19, 2023, while artworks on the grounds will remain on view through October 1, 2023. 
Graycliff is a historic house museum, and the exhibition is viewable only by guided tours and through special events. Graycliff will offer free Art Tours on the first Saturday of every month. Advance registration is required. Art Tours will also be offered weekly throughout the run of the exhibition. To plan your visit to Finding Room, please head to experiencegraycliff.org for Graycliff hours, admission, and special event days. 
"This collaboration with the Buffalo AKG Art Museum is unlike anything Graycliff has ever hosted. This is a real opportunity to invigorate what would usually be a static presentation with contemporary art that is sure to challenge perspectives, refresh our senses, and allow us to see our historic site in an entirely new way," said Graycliff Executive Director Anna Kaplan. "The exhibition allows not only for the presentation of Braman's fascinating body of work, but for new visibility of the Wright-designed spaces, highlighting the home as a vessel—a vessel for furniture and objects, energy and life." 
"We are extremely grateful for the tremendous support of New York State and Governor Hochul, which allowed us to restore Graycliff to its original splendor," said Kaplan. "Over $3 million in funding was provided for the completion of the interior restoration, landscaping improvements, and the restoration of our lakeside lawn, which included re-installation of a Wright-designed stone bench. All of this work helped create an extraordinary environment for showcasing the sculpture we are unveiling today."
"I have a deep appreciation for Frank Lloyd Wright's relationship with material and his sensitivity to our lived experience." said Braman. "Being in Graycliff I experienced small details that acknowledge my humanity. It is an honor and a delight to be working in proximity to this offering."
"We are thrilled to present the public with an opportunity to view contemporary sculpture in this domestic and natural context, especially considering Graycliff's history as a beloved family summer home," said Buffalo AKG Art Museum Assistant Curator Andrea Alvarez. "In this dynamic space, Braman's colorful artworks will come to life and encourage visitors to see them—and the house—in a new light."
When we grow accustomed to our day-to-day environment, we may come to believe that the spaces we live in are unremarkable. Artists like Sarah Braman hope that we take another look. Braman encourages us to think about the ways in which function, history, aesthetics, and spirituality continually shape our immediate environment. Brought meaningfully to the forefront of our minds when we encounter Braman's sculptures on the Graycliff grounds, we are unable, at least momentarily, to remain indifferent to these spaces.  
Braman makes domestically-scaled indoor and monumental outdoor sculptures that celebrate everyday life. In her indoor practice, she combines found objects like furniture, doors, and pieces of scrapyard vehicles with colorful geometric volumes. Composed by similar means, her outdoor sculptures, made from concrete culverts that lie beneath our roads and buildings, are enlivened by the addition of colored glass. This exhibition is the very first time that viewers can experience Braman's indoor and outdoor sculptures together, and it is the first opportunity for these practices to speak to one another. 
Situating Finding Room on and within Graycliff, designed by Wright in 1926, places Braman's work in conversation with this architectural masterpiece. In their practices, Wright and Braman explore the relationship of nature and found elements to humanmade objects, drawing attention to lived experience with deceivingly simple formal gestures. As you walk through Graycliff, you will see that Wright combined glass, wood, and stone taken directly from the site to create the intricate details of the organic style of architecture that became his legacy. Braman uses similar materials to create forms that revere commonly overlooked aspects of daily life. The interaction between natural and humanmade materials and, perhaps especially, the dialogue between light and glass are springboards for both artists. 
Braman's sculptures can be viewed in relationship to the formal legacies of modernism, like Color Field painting and Minimalist sculpture. Instead of the reverent quality of a white-walled gallery, Braman's preferred context is domestic, so that the sculptures are experienced as part of one's everyday life. Placing her sculptures in a house that is itself part of the modernist tradition yet also carries the intimacy of a beloved family home, underscores how Braman's work both resists and embraces modernist traditions to reconsider our lived environment. When you encounter a work like Her House, 2019, in Isabelle's bedroom, you witness the glow generated by light passing through the pink and yellow glass volume, while at the same time feeling the warmth of the well-loved and sweetly decorated bedroom that belonged to the house's matron, Isabelle Martin. 
Like Graycliff itself, the monumental outdoor pieces on its grounds will respond to and be changed by the seasons: over the course of the exhibition, both of these structures—these containers for life—will look out onto Lake Erie, be bathed in the heat of sunlight in the summer, witness to autumn, and be draped with snow in the winter. Changing weather and light conditions will provide varied visual and physical experiences of Braman's sculptures, inviting multiple visits and fostering an ongoing engagement with this important site. Much like Wright's designs, Braman's outdoor works rely on human interaction to invigorate the space and connect it to its surrounding environment. They invite viewers to enter their light-filled spaces and be enveloped by her chosen materials. It is from within these volumes that one can truly appreciate Braman's use of colored glass. One witnesses the additive mixing of colors that emanate from the panes, and contemplating the fullness of these spaces and their relationship to the surrounding landscape. 
Shown together, Braman's indoor and outdoor works have an even greater impact than when they are seen separately. Encountering them inside the home, the viewer takes in Braman's sculptures as beautiful, external objects: one can walk around them, witnessing the changing play of color and unexpected juxtapositions with the setting. But one participates in her outdoor work: a visitor stands inside of the heavy concrete sculpture, where their own body is colored by the light, and they feel, as well as see, the weight and volume of concrete as they sit within it. Both deeply personal and visually enveloping, the experience of Braman's sculptures changes how we see the ordinary, stretching our perceptual abilities—from without and within.
The exhibition is curated by the Buffalo AKG Art Museum's Assistant Curator Andrea Alvarez and Public Art Project Coordinator Zack Boehler.
About the Artist
Sarah Braman (she/her) makes sculptures that serve as monuments to everyday life. Interested in the interplay between sensory experience and emotional resonance, Braman combines elements from scrapyard vehicles, old buildings, or furniture with translucent volumes of color and light. The artist's distinctive color palette permeates the work, from spray paint on found objects and hand-dyed fabric to the expansive nature of the glass forms. In their formal construction, her works relate to the legacies of Minimalism and Color Field painting. Defying a narrow modernist definition, Braman's works suggest themes of home, family, and nature, with their joyful immersion in lived experience and emotional life. Braman is represented by Mitchell-Innes & Nash in New York. 
About Graycliff
Graycliff, the historic summer retreat of Isabelle and Darwin Martin of Buffalo, New York, comprises structures and grounds designed by Frank Lloyd Wright along with gardens and landscapes designed by landscape architect Ellen Biddle Shipman. Resting on the shores of Lake Erie in Derby, New York, this home is maintained by the Graycliff Conservancy, a nonprofit organization that strives to share the journey and all the stories of Graycliff, advancing the property as a publicly accessible historic site.
***
The Public Art Initiative was established and is supported by leadership funding from the County of Erie and the City of Buffalo.
###