(Sound)Suit Up!
Inspired by Nick Cave's Soundsuit Speak Louder, 2011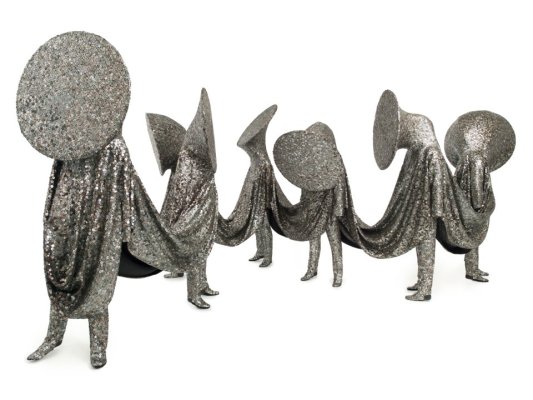 Conceptual Basis
Nick Cave (American, born in 1959) is an American fabric sculptor, dancer, and performance artist. Growing up in Fulton, Missouri, Cave's family was large in size and always supportive of his artistic interests. He claims his upbringing gave him an artistic attentiveness to found objects and assemblages.
Cave creates "Soundsuits"—surreally majestic objects blending fashion and sculpture—that originated as metaphorical suits of armor in response to the Rodney King beatings and have evolved into vehicles for empowerment. The 'soundsuits' are ornate, full body costumes designed to rattle and resonate with the movement of the wearer. He uses materials that range from twigs to crystals to rainbow-colored hair that are visceral and necessary critiques of racial injustice.
He collaborates with local musicians and choreographers in his invigorating performances, where they become 'shaman-esque,' to follow ancient rituals of chasing away evil spirits. Cave says his performances are both playful and deadly serious, both insulating and isolating.
Nick Cave is scheduled to come to Buffalo as part of a project by C.S. 1 Curatorial Projects.