Abstraction and Identity (Grades 9–12)
Inspired by Mark Bradford's Butch Queen, 2016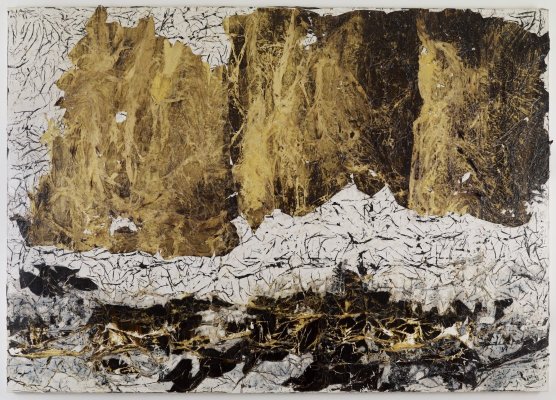 Conceptual Basis
Mark Bradford is an American artist from Los Angeles, California. He works with found objects and paint to create large-scale abstract collages. He began his practice by using end papers from his mother's hair salon. These translucent strips (used to protect women's hair when dyeing it) were layered, peeled, and stripped to reveal different colors and many layers of paint underneath. His process often involves building layers up, only to strip them irregularly away.
In 2016, the artist created several original works for his Buffalo AKG exhibition Shade: Clyfford Still / Mark Bradford. The inspiration for this exhibition was based on his admiration for the Abstract Expressionist artist Clyfford Still. (The museum owns 33 works by Still.) Butch Queen was created for this exhibition and acquired by the museum shortly after. Bradford's works can be found in the collections of the Buffalo AKG; the Museum of Modern Art, New York; and the Tate, London, among many others. Bradford continues to explore contemporary social, economic, and political issues in a wide variety of mediums.
To make Butch Queen, he collaged black and white paper to canvas, sometimes splashing the black paper with bleach and water. He then cut into the thickly stacked paper fragments with a sander, creating a layered surface that emulates the strata of paper advertisements one passes while walking on city sidewalks, and also suggests the variegations of human skin. While the resulting work is abstract, the artist sees its process and materials as deeply connected to contemporary life and his own experience as a black gay man.