Musical Performance by Mendi + Keith Obadike: Difference Tones
Friday, January 14, 2022
6 pm EST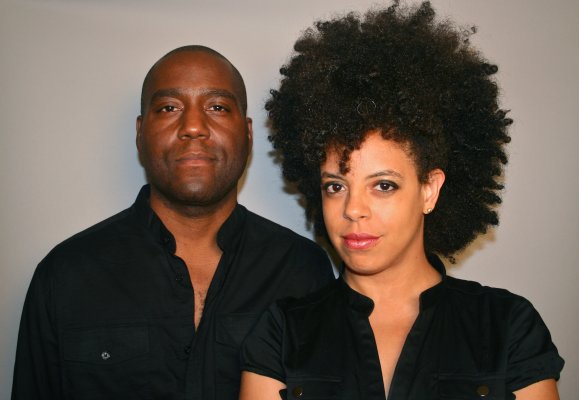 FREE
Virtual Event
Join us for a special live virtual performance by Difference Machines: Technology and Identity in Contemporary Art artists Mendi + Keith Obadike, who are known not only for their early internet–based art projects, but also for their pioneering work as sound artists.
Difference Tones is a sound and video performance presented via the virtual space of Zoom and a meditation on the idea of difference. It is centered on the play and interactions between two channels of sound and two images in a single channel of video. The title is taken from the field of acoustics: when two notes are played simultaneously, a third "difference tone," or imaginary note, is faintly heard.
Please register online. Registrants will receive a link to join this virtual event the morning of the program, as well as a link to watch a recording of the event after it has concluded.
About the Artists
Mendi + Keith Obadike make music, art, and literature that both use and critique digital tools. They have exhibited and performed at the New Museum, The Studio Museum in Harlem, The Metropolitan Museum of Art, and The Museum of Modern Art, all in New York, NY. Their honors include a Rockefeller Foundation Fellowship in New Media Art; a New York Foundation for the Arts Fellowship in Fiction; and the Louis Comfort Tiffany Biennial Competition Award.
About the Exhibition
Difference Machines: Technology and Identity in Contemporary Art brings together a diverse group of seventeen artists and collectives who creatively reimagine the digital tools that shape our lives. The exhibition includes projects that span the last three decades, ranging from software-based and internet art to animated videos, bioart experiments, digital games, and 3-D printed sculptures. Together, these works explore the aesthetic and social potential of emerging technologies.
The Albright-Knox's exhibition program is generously supported by The Seymour H. Knox Foundation, Inc.