Feeding Everyone: Drea d'Nur of Feed Buffalo in Conversation with In These Truths Co-Curators Aitina Fareed-Cooke and Edreys Wajed
Friday, May 20, 2022
6 pm - 7 pm EDT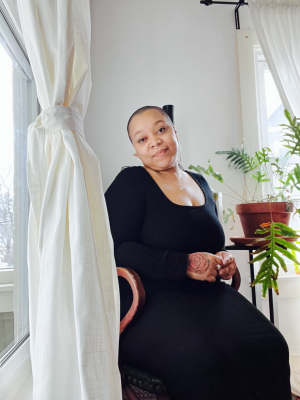 FREE
Albright-Knox Northland
Multi-discplinary artist and activist Drea d'Nur will be in conversation with In These Truths co-curators Aitina Fareed-Cooke and Edreys Wajed to discuss her work as the founder of Feed Buffalo and its mission to provide underserved communities with access to healthy food.
We will also be accepting donations for Feed Buffalo during the event:
Emergency response items needed: Prepaid gas cards, gift cards to grocery stores, and items for children ages 2 and under
Items always needed: Pasta, dates, chickpeas, coconut water, organic cane sugar, organic tomato paste/sauce, Jasmine rice/Basmati rice, organic coconut oil/virgin olive oil, almond milk or oat milk, organic brown eggs, and toilet tissue
All pay-what-you-wish donations for admission to Albright-Knox Northland during Block Club Weekend, May 20–22, will be donated to Feed Buffalo.
Please review our Courtesy Code and reserve your visit date and time prior to your arrival.
Event Recording
About Drea d'Nur
Born in Buffalo, Drea d'Nur is a mother, music and visual artist, archival researcher and evidence collector, and community organizer and activist. In addition to d'Nur's rich music profile, which includes The Spirit of Nina, a multiform celebration of the singer Nina Simone and her connection to Black performers in Buffalo, she also works to heal broken communities through creative strategic collaborations. She is also a founding member of Project Mona's House, WNY's first restoration home for human trafficking victims and the founding director of WNY's first organic and halal food access resource center, Feed Buffalo.
About Feed Buffalo
Feed Buffalo took root inside of founder, Drea d'Nur, out of a need to feed her own Muslim family. After visiting several pantries, she noticed that none of them had halal food. She was determined to create a community pantry with healthy options that included halal food. D'Nur is working to heal communities with a clear vision and healthy food initiative that focuses on Buffalo's underserved communities, especially Black and Muslim refugee communities. Their pantry is at 456 Massachusetts Avenue, Buffalo, NY 14213.