Educators' Workshops & Events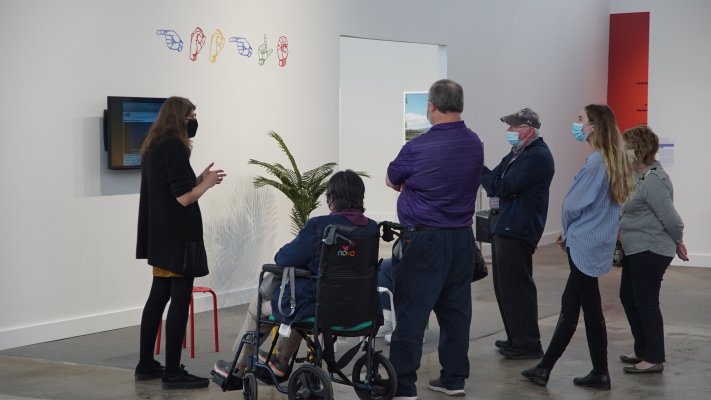 Educators are invited to explore their creativity and get ideas for sharing the work of featured artists with their students in our Educators' Workshops. These programs are offered on a quarterly basis, and CTLE credit is available. We also offer an annual educators' night out filled with art, networking, and fun!  
In addition to our scheduled workshops, we can create customized and interactive workshops for in-service days. We can also provide guided tours as part of professional development. For more information and availability, please email lkranz@buffaloakg.org. 
Professional Development for Educators at the Buffalo AKG
Let's have fun learning together! 

Have you heard of the student-centered facilitation method, Visual Thinking Strategies? Are you looking for a way to create inclusive discussions around works of art in the classroom? Our Learning & Creativity team can facilitate an introduction to this method on-site at the museum or at your school/district. 
Our workshops help make connections between learning through play and social-emotional learning and strategies to engage students with modern and contemporary art in your classroom.
Working with the Manager of School & Teacher Programs, teachers and administrators can provide a unique and fun professional development opportunity for their district, school, or educational organization with a range of possible activities, such as guided tours, exploring creative commons, small group discussions, and more!
Please begin the scheduling process by completing our online professional development request form. Most opportunities will qualify for CTLE credit.
Please also have the following information available when you fill out the request form:
•    School name or organization and contact information
•    Potential visit dates and times
•    Estimated number of participants
•    What your goals are for the tour/workshop
•    Any special needs your group may have

To discuss payment and for more information, please contact the Manager of School & Teacher Programs, Lindsay Kranz, at 716.270.8276 or lkranz@buffaloakg.org. Communication by email will facilitate a timely response.