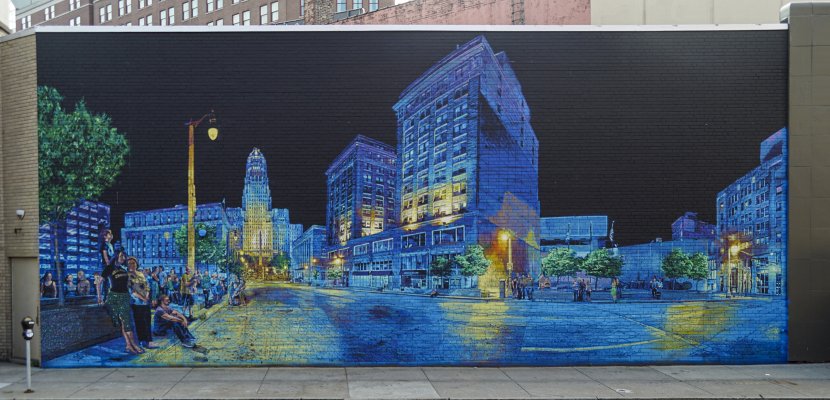 Location: 5 East Huron Street (Get Directions)
Logan Hicks's mural for the Washington Street façade of 5 East Huron Street is based on photographs he took around one of the city's signature sightlines: down Court Street toward Niagara Square and City Hall. He then translated this imagery into a number of stencils to be added in monochromatic layers to the wall. As with previous projects, Hicks chose to photograph the city late at night, a relatively quiet, peaceful time that allows him to "slow down and look at [the environment] with fresh eyes . . . [and] start to see the beauty in the mundane."
Based in New York City, Hicks has been an active member of the street art and mural community since the early 2000s, completing large-scale projects for New York's famed Houston Bowery wall and Wynwood Walls in Miami as well as in Baltimore, Istanbul, Tunisia, Paris, and beyond.
Project Sponsor

Support for this mural has been provided by Hyatt's Graphic Supply Company. 
Initiative Sponsors

The Public Art Initiative was established and is supported by leadership funding from the County of Erie and the City of Buffalo.