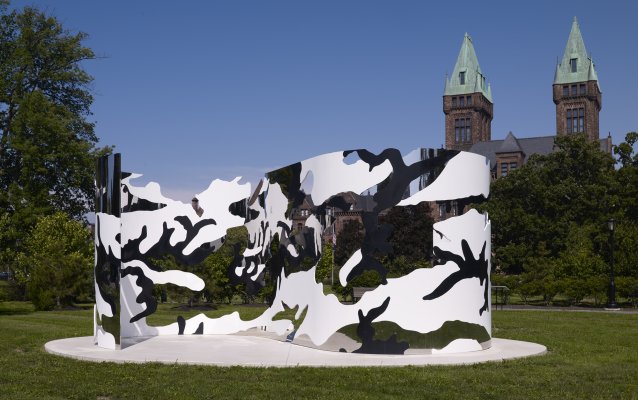 Location: Richardson Olmsted Campus (Get Directions)
Artist Jim Hodges turns to unconventional artistic materials—including lightbulbs, silk flowers, and, as in look and see, mirrors—to create poetic celebrations of life and love that honor the often too-fleeting nature of these joys. In this sculpture, Hodges alternated areas of highly polished, cut-out, and painted stainless steel in a camouflage pattern that does not so much hide as fundamentally transform your perception of this space. Mirrored surfaces, the artist explained, "bring the viewer into the experience . . . and your location becomes in question. The images are created by who's seeing it. It's always going to be changing." With this playful shuffling between far and near, real and reflected, Hodges welcomes us, as viewers, into a conversation about our understanding of nature, artifice, and our own identities.
When it was completed in 2005, look and see was the artist's largest sculptural project (the sculpture weighs nine tons). Hodges always intended that the work be publicly accessible; it was originally installed at The Battery on the southern tip of Manhattan. However, after being installed in the Albright-Knox Art Gallery's Sculpture Garden in 2006, access to the sculpture was limited to the museum's operating hours. This third installation returns the sculpture fully to public view on the grounds of the iconic Richardson Olmsted Campus, designed by celebrated American landscape architect Frederick Law Olmsted. This reinstallation not only honors the artist's original vision for the work but also speaks to the Albright-Knox's commitment to sharing major public assets in major public places and imagining innovative collaborations with its Elmwood Avenue Cultural District partners.
Initiative Sponsors

The Public Art Initiative was established and is supported by leadership funding from the County of Erie and the City of Buffalo.