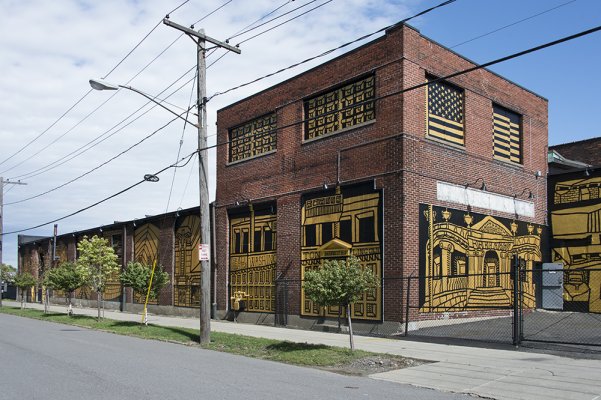 Location: Koch Metal Spinning (Get Directions)
In summer 2016, Buffalo-based artist Daniel Galas completed a mural at 74 Jewett Avenue, the home of Koch Metal Spinning. Galas focused exclusively on the architecture within walking distance from his studio at the Buffalo Arts Studio in the Tri-Main Center, adjacent to the mural site. The location presents a series of sections that the artist used as framing devices, setting up a cadence that takes the viewer on a visual journey back and forth along Buffalo's Main Street divide.
Galas has created a contemplative set of images that resonates with this location, establishing new associations between the sites depicted. The work was produced entirely in black and gold. Black relates to the artist's established practice of printmaking and drawing, and gold is meant to elicit an intuitive response from the viewer that acknowledges the civic value of honoring our shared heritage.
Buildings represented in the mural include the Elephant House at the Buffalo Zoo (300 Parkside Avenue), Highland Lodge #835 / Central Presbyterian Church Community Center (2456 Main Street), St. Mark's Roman Catholic Church (401 Woodward Avenue), the Kensington Water Tower (667 Kensington Avenue), Blessed Trinity Roman Catholic Church (317 Leroy Avenue), the Pierce-Arrow Showroom (2421 Main Street), Bennett High School and All-High Stadium (2885 Main Street), and the Darwin D. Martin House (125 Jewett Avenue).
About Daniel Galas
Daniel Galas is a Buffalo-based artist primarily focused on creating artworks predicated on architecture in and around the Western New York region. Featuring a whimsical signature style, Galas creates images of recognizable yet distorted forms that populate our shared urban landscape. Visit Daniel Galas's Website