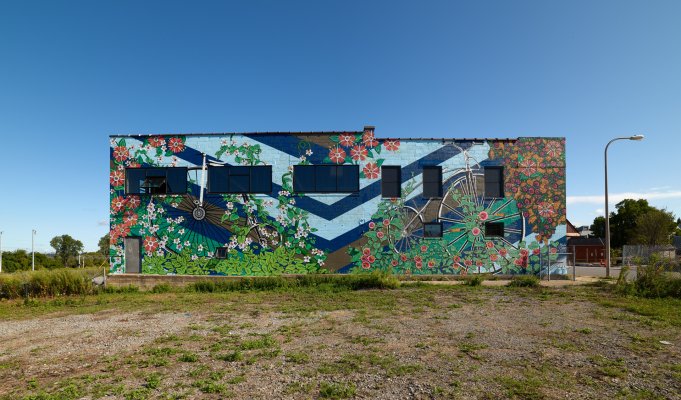 Location: 1330 Niagara Street (Get Directions)
In her mural for 1330 Niagara Street, Buffalo-based artist Nicole Cherry combines her signature eye for color and pattern with imagery inspired by the building's future occupant: a bicycle shop. Cherry, a citizen of the Cayuga nation, began painting murals inside family and friends' homes when she was still in high school. Since graduating from Buffalo State College, Cherry has expanded her practice to create indoor and outdoor installations for numerous local institutions, including Undergrounds Coffee House and Roastery in Buffalo's Historic Old First Ward neighborhood, and Elmwood Pet Supplies on Elmwood Avenue.
Project Sponsors

This mural has been made possible by Buffalo Spokes LLC.
Initiative Sponsors

The Public Art Initiative was established and is supported by leadership funding from the County of Erie and the City of Buffalo.