In 2020, Mickey Harmon and Ari Moore completed Stonewall Nation: WNY LGBT History Mural at Q Bar on Allen Street, the historic home of LGBTQIA+ cultural life in Buffalo. The mural recognizes the historical and ongoing struggle of LGBTQIA+ activists through portraits of key local and national figures in this history from its beginnings at New York's Stonewall Inn to the present. We spotlight Moore's long partnership with the museum and her life as a leader in Buffalo's LGBTQIA+ community.
When the Stonewall uprising happened in New York City, Ari Moore was sitting in Mickey's Grill. A young, gay man ran in and shouted, "Everybody, they're rioting and fighting with the police in New York City. All the [gay slur] are fighting with the cops."
One older gentleman, drinking at the bar, looked up and said, "It's about fucking time," and went back to drinking his beer.
"As a young impressionable person," recalls Moore, "I thought, 'This is the spirit of liberation.'"
Long before Moore worked on Stonewall Nation she had been part of the Albright-Knox's education department dating back to the 1970s (in fact, Moore still has her first parking pass and her first paycheck).  It was private pleasure to walk the halls of the galleries before anyone else had arrived. For Moore, the Albright-Knox's collection is unsurpassed, and now she is a part of that legacy as mural artist.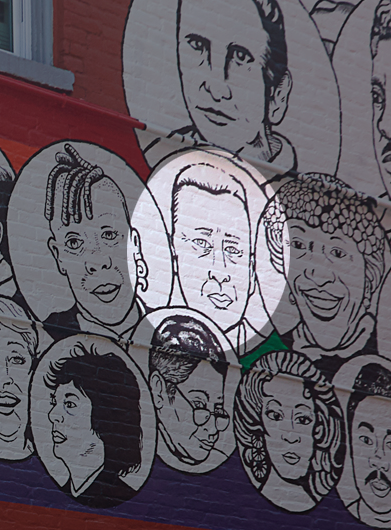 To supplement her work at the museum, Moore taught summer art classes at the Langston Hughes Center, an arts organization founded by Black artists in Buffalo that powerfully democratized access to arts for Buffalo Black and Brown youth. She also opened her own studio above a drug store on Main Street. Downstairs around the corner was the first inkling of the African American museum that would become the Paul Robeson Cultural Center.
Like many Buffalo stories, Moore's was impacted by the city's contraction when steel manufacturing and development began to leave the area. Funding for arts programs tended to go with it. "It was like, last person leaving Buffalo, turn off the lights," Moore recalls. She was one of the last people in the education department to be let go. She worked for twenty-five years as a police officer.
But Moore's mural work has continued throughout that time. In the late 1960s after the assassination of Martin Luther King, Jr., "People were so emotionally upset we destroyed much of Jefferson Avenue," says Moore, "Many of the buildings out there were boarded up, some of them are still boarded up."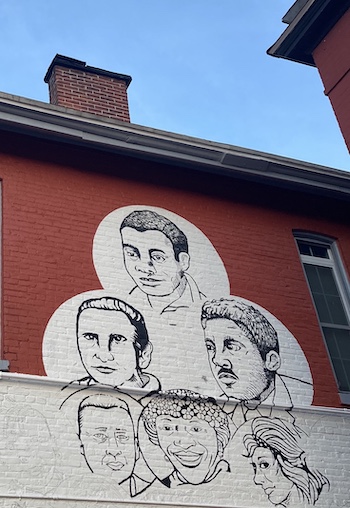 Young African American artists in the community took it upon themselves to paint designs and uplifting messages across Jefferson, some of which still survive. The late William Y. Cooper's mural of Malcolm X, Sojourner Truth, and Martin Luther King, Jr., even now is being restored.
"With any community self-representation and seeing yourself publicly in these spaces is important, and it's enlightening for the rest of the community," says Moore. This is also the case with Stonewall Nation. You'll see Gertrude Stein, James Baldwin, Bayard Rustin, and Audre Lorde—"some of our giants," as Moore says—but the artists also wanted to fill in the gaps in that history to represent New York State and Buffalo to show how the struggle for human rights took place on a regional and even local stage as well as a national one. Marsha P. Johnson and Sylvia Rivera are up there with the Buffalo-born Dorian Corey. The less familiar names mean a lot to Buffalo residents.
In the 1960s many LGBTQIA+ people were forced to be secretive about their real lives and desires. Moore was 16 she came out as trans to her mother and received that unconditional love she needed when she was young, which gave her the confidence to walk publicly. Others were not so fortunate.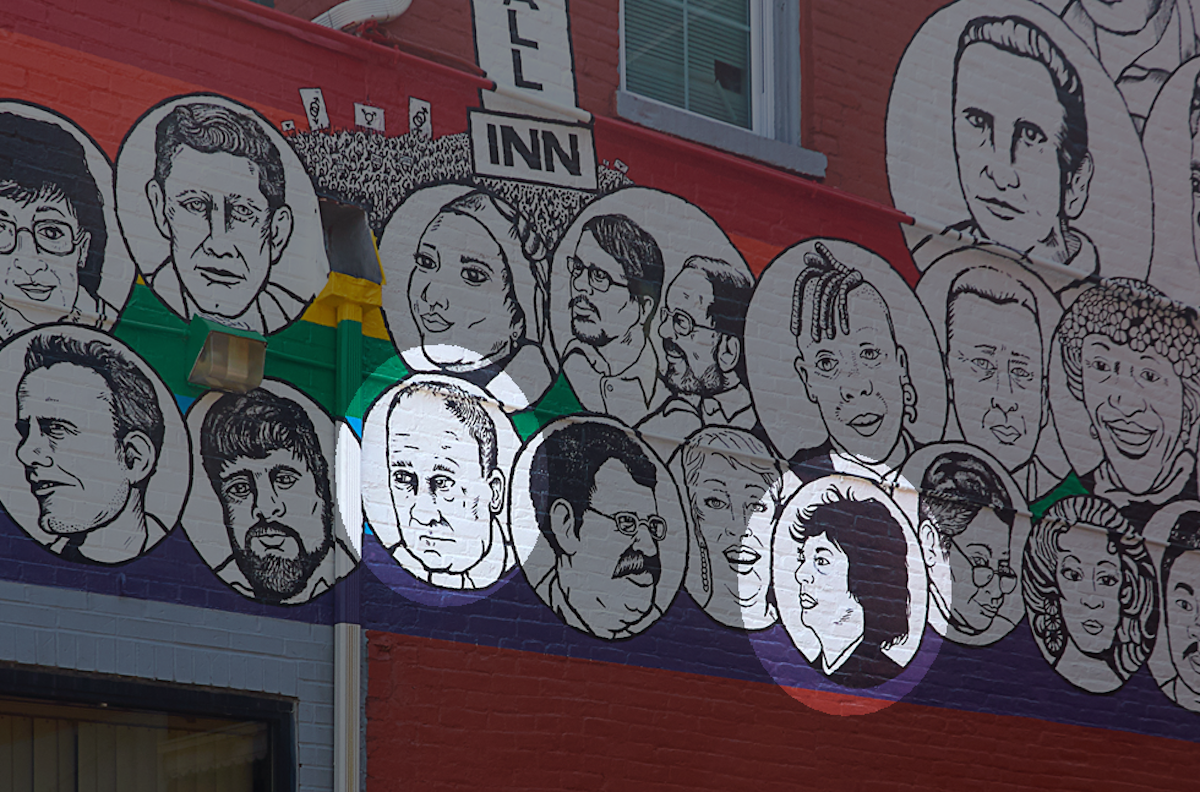 Stonewall Nation shows Buffalo attorney William H. Gardner, who fought against city's entrapment of gay people, when it was routine to charge gay people in public spaces for loitering and sodomy was still illegal. Gardner represented gay people for free, and an appeal of a 1980 case he worked on resulted in New York State striking down their anti-sodomy laws as unconstitutional.
And there is Madeline Davis, a founding member of the gay liberation organization the Mattachine Society of the Niagara Frontier and the all-lesbian theatrical company Hag Theatre, and an activist who nurtured the gay community in Buffalo for decades. Her archives at Buffalo State College are an incredible resource for people interested in the history of gay life and activism in Buffalo.
Listen to Madeline Davis's recording of the first gay liberation anthem, written by her, "Stonewall Nation," 1973.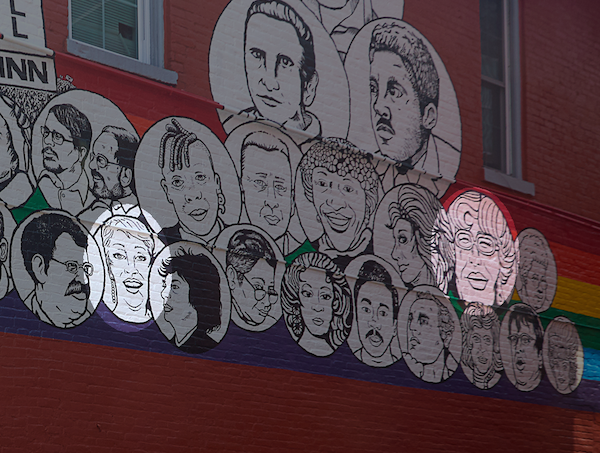 Moore found community in places like the Mattachine Society, which hosted Friday night socials where one could drink beer and play pool, while browsing the Society's literature. It was a revelation to Moore, "There's books on people just like me!" But she found camaraderie in the thriving nightlife. When a friend told her about the gay bars on downtown Allen Street, Moore's first reaction was, "What's a gay bar!?" The first she went to was the Villa Capri, which used to be at Main Street and Allen Street where the Metro station is now. In the Villa Capri and others, Moore was exposed to the nightlife of performers and female impersonators, performers like Tangarra, whose career went all the way back to the 1920s and was rumored to be the girlfriend of a well-known member of the Buffalo mafia. She taught some of Moore's friends how do striptease routines.
Likewise, Vicki Vogue was a vaudeville performer, on the board of the LGBTQ Archives, and was a court empress in the imperial court system, an international gay social club that at that time was formed to support people with HIV. Moore found Vogue personally inspiring: "True enough, they had to endure that duality at that time." But Vogue "had a professional job and she was living her best life. Through her, I saw the larger possibility of what was possible."
It's why having the mural on Allen, which she lovingly calls "our little gay ghetto," means so much to Moore. "Allen was always the hub," she says, but there is also some sadness to recalling that history. "All the gay clubs in the '40s, the '50s, the '60s, they are no longer here. We have less than a handful of gay clubs now."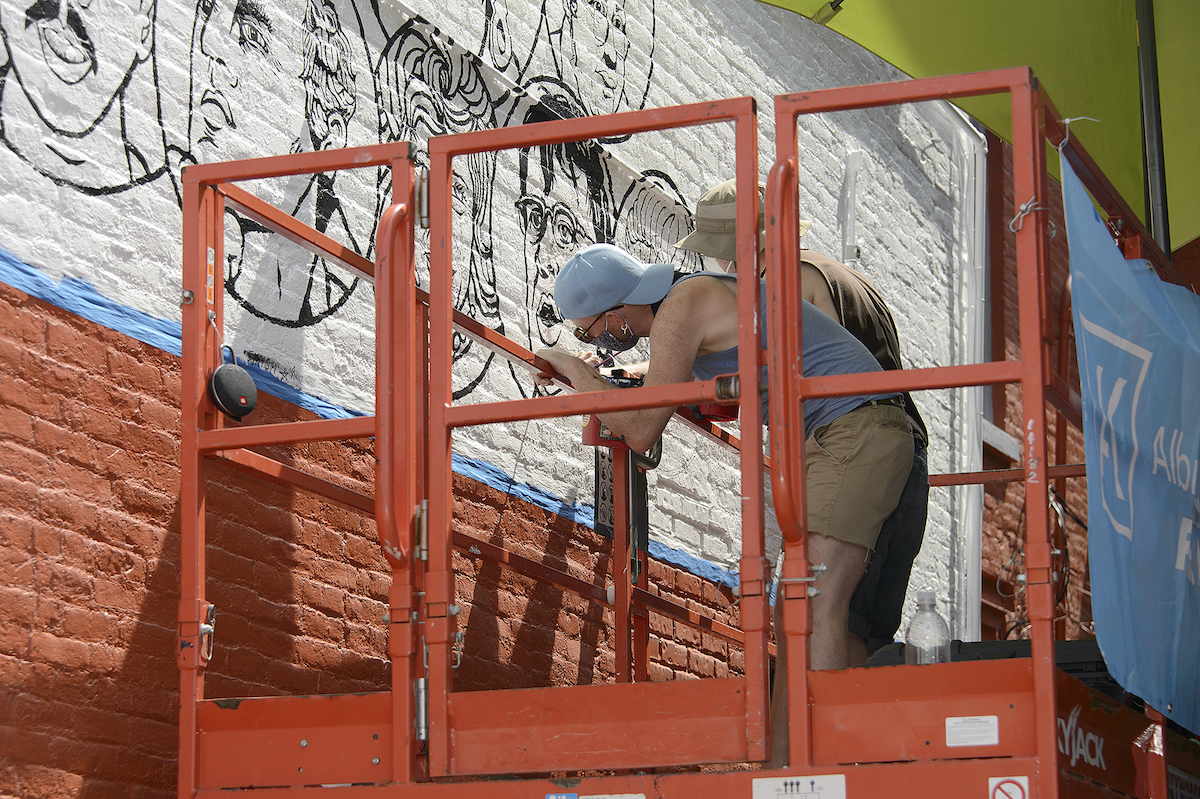 It was a particular thrill for Moore that Madeleine Davis was able to attend the dedication of the mural and speak her truth to those present. But it was not long before Davis was gone, and more soon after. "We lost LGBTQ elders within that one year," say Moore. "We lost Babs [Conant], we lost Leslie [Feinberg], we lost Bruce Kogan—a long time political curmudgeon, who bravely stood for LGBTQ rights within the democratic party for years. And so many more."
"Many of our activists and frontrunners are now in their elderly time. This one of the first times in recent collective memory that you see lesbian and gay couples become senior citizens. We continue to be activists for those who have to be sent to nursing homes, where they might deny your lifetime partner or now even your married spouse to come to you. Now we have trans folks who are becoming seniors in nursing homes and living facilities that need to be properly acknowledged and respected."
To be a "Stonewall Nation" means more than to record history; it's also a mission statement, an acknowledgment of the future that can be. "Being of African American trans experience," Moore reminds us, "a community that does not know their history is doomed to repeat the same mistakes again and again."
---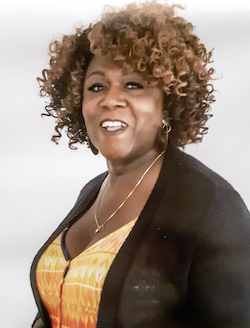 About Ari Moore
As Buffalo's first prominently out Black trans woman, artist Ari Moore has established herself as a leader and matriarch of the local movement for decades. After studying at the University of Buffalo and Daemen College, Moore has served an art instructor at the Albright-Knox Art Gallery and the Langston Hughes Institute Center. She was one of the first artists to show at Buffalo's Juneteenth Festival. Moore owned and operated the Inner City Art Studio before joining the Buffalo Police Department, where she served as an officer for twenty-five years before retiring.