On this International Human Rights Day, we celebrate the life and work of Kelly Diane Galloway, the subject of a new mural by Thomas Evans, aka Detour, for the Public Art Initiative.
What does a seven-year-old have to teach? Everything she knew. 
It was at that age that Kelly Diane Galloway, the future founder of RAMP Global Missions and Project Mona's House, opened her home as a tutoring center for other children in her neighborhood. Galloway had learned cursive in kindergarten, so she taught cursive. She could do some math problems, so she shared those, and she had a science kit. There was a popular catalogue, Brand Names, which had a storefront on Main Street in Buffalo, and you could get a science kit there. It was simple, little experiments with some litmus paper. She knew how to tell an acid from a base. So: all the kids in the neighborhood could tell an acid from a base. And books.
"We spent a lot of time reading, that was my thing. Books, books, books." Many of her elders were educators, one of whom, Peggy, made her read and write book reports (the first book Galloway can remember reading was on Booker T. Washington). 
Galloway came from a family of public servants. Her father was involved in politics and worked at the Equal Opportunity Development Office downtown, fighting for the rights of people of color and against gender biases. Her mother was the Chief of Mental Health at the Buffalo Psychiatric Center. "Sometimes people go to those places, and they see people talking to themselves or something like that. And they may be scared, especially as a kid." But not Galloway. "I grew up in a psych center, so I think I've learned from a very early age that people, no matter who you are, no matter what your issues are, or situations are, that you deserve to be treated as what you are: as a human being."
Galloway was the youngest in her family by nine years and it would be another nine years until another child was born, but she did have a cousin, Mikey, that she refers to her as her brother. Mikey babysat Galloway, but one gets the sense that they were close the way only two children growing up together could be. In seventh grade Galloway remembers being at home recording a song off the radio (as we used to have to do) and hearing her sister scream. 
"And she was like, 'They killed them. They killed him. They killed him.' And she was talking about Mikey." Her cousin had been shot. He didn't make it. 
After the loss Galloway went from being the top of her class to the bottom. She calls herself a "terrible teen." In truth, she was grieving but didn't know it and didn't know how to tell anyone. Most significantly, when she lost Mikey, she lost her hope. In a family that prized education, she didn't get into any colleges—except one.
On a Friday, she recalls, she was cooking chicken fingers and checked the mail. She had received a letter from Liberty University, a Christian College she had never heard of before, with an application form in it with the admissions fee waived. She put her application in the mail on a Saturday. The next Tuesday she received her acceptance. Across the top of the acceptance letter it said, "God has a blueprint for your life."
In her school, the teachers would put copies of students' acceptance letters up on a bulletin board. Her guidance counsellors were shocked, her classmates were shocked, but her letter went up on the board. And maybe it was the letter that changed things for her. 
Galloway went to Liberty, working full time as a janitor, so the school would cover her tuition. She wound up cleaning the dorms. "It was gross, number one," she says. "What it taught me was how to clean good, up to standards, and how to clean fast." It wasn't long before she opened her own cleaning company. Everything you have is a resource to draw on.
At Liberty, Galloway also fell in with a group of people who shared a set of beliefs and approach to those beliefs. Naturally, they founded a church together: RAMP Church, Reaching As Many as Possible. The church took off.
Forty people showed up at the first service in 2005, and it grew from there. They had to keep finding new buildings to fit everyone, a success Galloway attributes to their philosophy. "We love people," Galloway says. "We didn't judge anybody." A ramp is also a platform that leads to a higher level, and the church gave people a safe space in which to grow, to come out of the boxes they have been confined in. 
Galloway felt moved to expand the reach of RAMP beyond the United States and started RAMP Global Missions in 2015. She used the money from her cleaning business for the initial investment. Galloway began to travel overseas, building children's homes and schools in places like India, Nepal, Guatemala, Pakistan, and just a couple of weeks ago, Brazil.
In this work, Galloway met children and women who had been the victims of trafficking. She was unable to put away the issue, and on the recommendation of her pastor began to work with Christine Caine's organization, A21, an international organization dedicated to fighting all forms of human trafficking, sexual exploitation, and enslaved labor.
Once again, Galloway learned all she could, and then she took it all home. 
In 2016, Galloway was interning for A21 in Thessaloniki, Greece, when she met Ramona. Ramona had been trafficked from the Dominican Republic to Turkey, on the promise of a job as a domestic worker. What she found was that she was being coerced into sex work at a brothel. She refused, was assaulted, and turned out on the street. Somehow, she made it to a refugee boat to Greece, to a refugee camp, and finally to a shelter run by A21. That was where Galloway met her. 
Back in Buffalo in 2017, Galloway opened Project Mona's House, a restoration home for the victims of sex trafficking, named for the woman who embodied the hope Galloway sought to share with the world: "Tomorrow will be better than today, and two days from now will be better than tomorrow."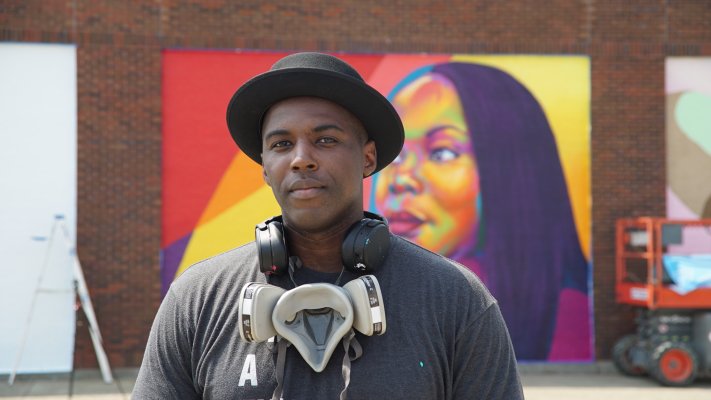 It was only a couple of years later that Curator of Public Art Aaron Ott asked Thomas Evans, aka Detour, to participate in the collaborative mural project Cobblestone Commons, which will feature the work of twelve different artists when it is completed.
Detour, a Denver-based artist who has created works all over the world, is known for large murals, often featuring portraits. With a father in the military, "home" changed frequently. Art was a way of making friends. Detour would draw the portraits of friends and teachers. It became a habit. In the same way that a drawing could be an exchange that formed a connection, his murals often grow out of the communities in which they are located. 
"That's kind of what public art, street art is all about, making those connections and using the landscape as a gallery—but also being informative and letting people know who's in your community and relevant," he says. 
After Detour's involvement in Cobblestone Commons was announced, the Buffalo-based artist (and co-curator of the upcoming special exhibition In These Truths) Edreys Wajed reached out and mentioned a few names of possible portrait subjects. Kelly Galloway stood out immediately. Detour says, "When she popped up, I was like, I definitely have to paint her."
"This was a great person," Detour states, "someone who's doing a lot of volunteer work and community activation, working on human trafficking." The wall could become a message to the city: here's someone you should know. "Having someone like her gracing that wall is super important, because it shows representation, shows community togetherness, shows something more than just having pretty artwork."
Aitina Fareed-Cooke (another co-curator of In These Truths), photographed Galloway for a reference image, and working from that Detour produced the painting on South Park Avenue in his signature style of striking, dreamlike color.
Galloway meanwhile was organizing the FreeTHEM Walk, a 902-mile journey from Lynchburg, Virginia, to Buffalo, New York, following the historic path of the Underground Railroad to draw attention to modern day forms of slavery, and then she was off to Guatemala for another RAMP initiative. But when she got back, the mural was there. 
"The artwork can connect you, and in ways that are deeper than just words," says Detour.
"I don't feel like my face being up there that it's just about me. I feel like it's more about my movement. And that movement is for freedom," Galloway says, "When it comes to bringing freedom to other people, I feel like my city supports me."
Galloway tells us, "The Underground Railroad was a network of freedom that allowed freedom seekers in the past to make safe passage to Canada, passing right through the place that we call home, Western New York. Underground Railroad was made of black people, white people, tall people, so our people, men, women, people of all different faith groups." For those people still in slavery, it will take a similar chain of humanity, whether we live in Buenos Aires or Denver, Thessaloniki or Buffalo, using our time, talent, and treasure to help answer the call to free them.
---
If you feel called, please consider donating and supporting the work that Project Mona's House does. Click here to learn more.