The Buffalo AKG recently acquired The Hand of the Devil Was Warm in the Night, 1985, by Jay Carrier (American, born Six Nations, 1963). This work figurative work demonstrates Carrier's explorations of the position of Indigenous people today. 
---
The Hand of the Devil Was Warm in the Night was the key turning point in Jay Carrier's early career. As a newly-enrolled BFA student at The College of Santa Fe, he had been producing mostly stereotypical, academic imagery of "Indians" for the local tourist market, while also experimenting with a more contemporary style. After selling one of his traditional paintings for a relatively large amount (which he immediately spent in one celebratory weekend bender), he had an epiphany: he could no longer continue to commodify his identity by trafficking in these kinds of reductive images. But rather than destroy this unfinished painting of a Native man wearing face paint and wolf skin, he chose to transform it into a representation that is unsettled and strange. 
Its cartoon-like drawing, flat areas of color, and juxtaposition of text and image—which would become hallmarks of his subsequent works—reflect his artistic and pop culture influences, from modernist painting to comic books. In this way, the painting allows viewers to appreciate his perspective as a contemporary Native painter, one working through the disjunctions of modern life to resolve the disjointedness of Native identity in a colonized world. The title emphasizes the predicament: the world will tempt and tease you to profit from your own exploitation, selling your identity for profit. It's a warm offer—but a devil's bargain. He would never paint in a purely academic style again.
Working out his own aesthetic through figurative paintings, Carrier evokes social topics ranging from colonization and the abuses of the reservation schools to alcoholism and gambling. These works are more poetic than propagandistic: the references tend to be ambiguous, and the viewer is often left to put together their own narrative and pass their own judgments. 
In addition to being a pivotal work in Carrier's career, The Hand of the Devil Was Warm in the Night features many of the recurring elements in his practice. Formal elements, such as the sinuous lines and bold colors, but also the fact that it is painted on canvas attached to wood: he often stretches his canvases over found wooden objects, such as fragments of wooden pallets and fencing—or even paints directly onto them. In his choices, Carrier celebrates the readymade beauty in everyday objects, even discarded ones.
Interestingly, Carrier's earliest paintings were made when he was still a teenager and include copies of Impressionist scenes by Claude Monet, an influence that has returned in the landscapes he currently produces, in addition to his more figurative work. Carrier was born on Six Nation to parents belonging to the Wolf Clan of the Onondaga/Tuscarora Nations. Carrier was raised primarily in downtown Niagara Falls, where he now maintains a studio. Carrier has hiked and fished the wilderness of the Niagara Gorge, growing intimate with its plant and wildlife. His works reflect his involvement with this place, often incorporating materials he collects from nature, such as shells, sand, clay, and leaves, along with oil, graphite, and chalk. The resulting compositions are panoramic, semi-abstracted murals of local forests that suggest works like Monet's Waterlilies but also Jackson Pollock's "all-over compositions." While his paintings might suggest a kind of universal appreciation for the beauty of nature, they simultaneously depict nature as something that is local, concrete, and specific—and full of meaning for contemporary Indigenous people in particular.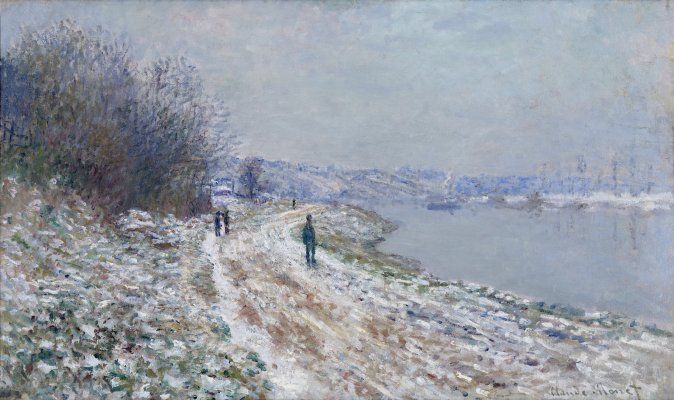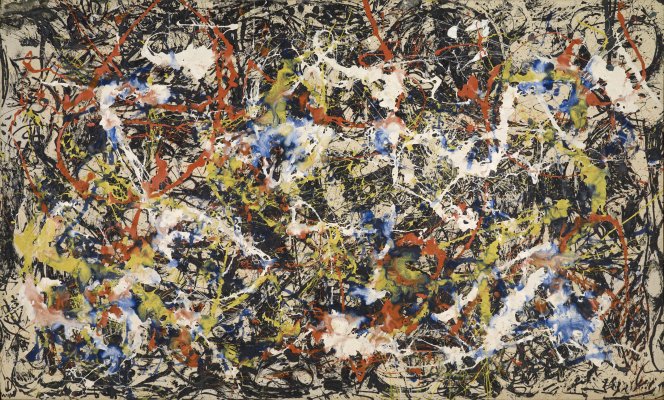 For the museum, The Hand of the Devil Was Warm in the Night exemplifies the post-modernist impulse in 1980s art, defined by artists in our collection like Robert Rauschenberg and David Salle. By explicitly relating these artistic traditions to the construction of Indigenous identity, it opens the Western canon to include more voices.
---
About Jay Carrier
Jay Carrier holds a BFA from the University of Illinois at Urbana-Champaign and also studied painting at The College of Santa Fe, New Mexico. He has exhibited at many venues locally, including solo shows at Hallwalls (2021), Buffalo Arts Studio (2020), 1120 Projects (2016), and the Chautauqua Center for Visual Arts (2004), and group exhibitions at venues including the Burchfield-Penney, El Museo, and the Castellani Art Museum. He has also exhibited nationally at venues including The Institute of American Indian Arts in Santa Fe and the Everson Museum in Syracuse. His works are in the collections of The Burchfield-Penney Art Center; The Woodland Cultural Center Museum, Brantford Ontario; and The Iroquois Museum at Howes Cave, New York.