National Volunteer Month celebrates the impact that volunteers have on our lives, so we want to celebrate the docent volunteers that will be helping to make us the Buffalo AKG Art Museum.
If you've been to the Albright-Knox, whether on Elmwood Avenue before construction began or at Northland Avenue, chances are you've interacted with one of our docents. They welcome us, they educate us, and they make the museum feel a little bit more like home whenever we walk through the doors. Some have been with us for decades, witnessed as the museum has changed and grown, as new exhibitions have gone up and come down. All volunteers with a lot of love to give, they help make the Albright-Knox run.
Lindsay Kranz, the Albright-Knox's School and Docent Programs Coordinator, has been working with the docent group for more than twelve years. "Not only am I constantly awed by their dedication, their willingness to learn, and their love for the museum, I've gotten to know this lovely group personally," Kranz says. "Docents have a special place as part of the AK community and will be even more essential when we reopen. I consider myself lucky to be their coordinator."
We asked some of our long-standing participants why they do what they do and what being a docent means to them.
Jim Marsh wanted to shake up his day-to-day life when he became a docent:
I was in the 1998–99 class and, frankly, enjoyed every minute of it. Having a minor in art history in college, I have always gravitated to every art museum in every city I have ever lived in or visited. I am a devotee especially of Abstract Expressionism, and when we moved to Buffalo in 1978 for graduate school and lived just down the road I was in the museum as much as possible.  
Volunteering is a pretty personal choice. I needed to change up my routine a bit and wanted to do something totally different than in my work week. I was open on weekends and what better way to learn and be personally fulfilled than to have a chance to guide visitors throughout the AK collection and exhibitions? Being a docent means that I can share conversations with the museum's guests. I really like it when the questions and comments are lively and excited and energetic as that means we are providing a good experience for our visitors—and are all learning from each other. 
When Kate Soudant moved back to Buffalo in 2005, becoming a docent wasn't even on her radar, but she tells us:
I started a workbook class called The Artist's Way and took myself on a prescribed "date" to a place that I hadn't been to in ages. That place happened to be the Albright Knox. 
The first painting I encountered when I entered the gallery was Joan Mitchell's George Went Swimming at Barnes Hole but It Got Too Cold, 1957. For some reason this triggered my high school self, who remembered seeing that painting many years ago, before I went away to college, and thinking, at the time, that this abstract work was whacky… Looking at it again some forty years later, I got a deep eerie feeling that I was "home." I didn't really know anyone in Buffalo, as I had been away for so many years. I began visiting the AK every Friday night to attend 'Gusto' which offered diverse and interesting arts presentations each week.
When I saw the call for docent training, I thought, "Why not? Maybe I will learn something." The training was invaluable, and I learned so many times how art connected to my other interests: history and the social sciences, philosophy, psychology, science, innovation, philosophy, literature, and alternative health practices.
I have been actively involved in offering tours since 2006, delighting when visitors have "ah ha" moments and are able to connect with the art. I feel privileged to have met so many wonderful people along the way—fellow docents, AK staff and, of course, visitors from all backgrounds, ages, generations, and from all parts of the world.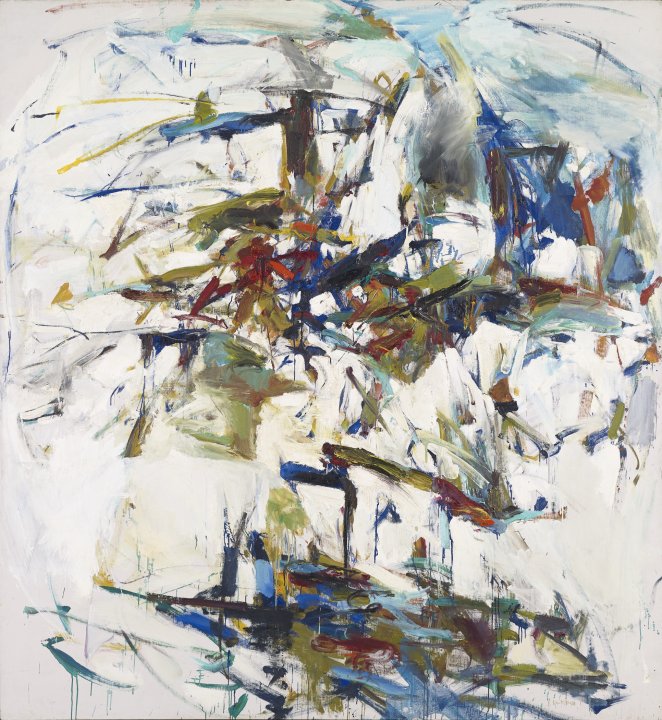 John D'Arcangelo always wanted to be an art teacher:
I started volunteering for the Albright-Knox in 2015 after leaving a successful teaching career as an inner-city high school art teacher. My teaching philosophy of "tell it like it is" and only engaging the students in art projects that were worthy of being "hung" were the primary reasons for my success with inner-city teenagers. 
After leaving the classroom I tried several volunteer situations; however, none of them seemed to fit. I finally connected to the AK and took the art historical–oriented training and became a very willing volunteer. Being a docent at the AK fit me like a glove. I found my passion; I was a teacher again but this time doing it for my pleasure. The AK, like all art museums, is a place of discovery, contemplation, exploring new ideas, and feeding my quest for learning. My role as a docent is to deepen my aesthetic awareness and broaden the thinking of our guests and (hopefully) give them the opportunity to consider concepts that are outside of their scope of reference.
With veterans like Jim, Kate, and John, the most recent class of docent volunteers has also begun their training for our reopening as the Buffalo AKG Art Museum. We appreciate appreciate all of them for helping to make the Albright-Knox a welcoming place for everybody—now and always. 
Learn more about the docent program and get updates when enrollment in a new class is open.