In Central African lore nkisi (plural minkisi) are objects or materials for spiritual protection, often produced or carried by Africans uprooted during the Trans-Atlantic slave-trade. Vanessa german forms her "power figures" in a similar way: from aggregations of the everyday and the symbolic: shells, bottles, keys, stuffed fabric pouches, string, beads, rhinestones. The empowered objects of her figures' compositions heal, protect, and ward off evil. Their declarative stances and materials imbue the sculptures with complexity, beauty, and magic.
Like Erykah Badu's ode to the bag lady, Endurance is a love story., 2016, which recently entered the collection of the Buffalo AKG Art Museum possesses all of the forbearance and fortitude needed to get through daily life as a caregiver and working person. Immediately one notices this proudly standing female figure is laden with a riot of shells, keys, and bags, but stands undaunted with a child in her arms on two delicate legs. We won't even mention the boots.
Keys dangle from the figure, some recognizable, like a Ford-stamped car key or the handle of another in the literal shape of a house. A swarm of bags form a weighty and awkward skirt. With one hand she carries a child. In her other hand, she grasps the rusted pole of a weathered and bent stop sign. The figure's complexity alone slows viewers to a halt before the work, an effect doubled by the sign.
Cowrie shells, which in certain parts of Africa were both currency and prized charms associated with fecundity, sexual pleasure, and good luck. The placement of the largest shell as the figure's mouth is particularly significant. The shape is seen in some cultures as representative of eyes (or that of a third eye). It can also be seen as the mouth of Orisha, deities in the Yoruba religion of West Africa. These god-like beings are said to have taught stories of humility and respect through their cowrie-mouths.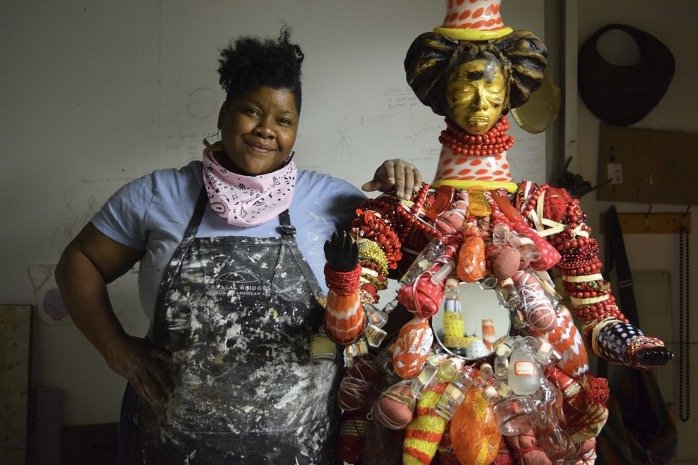 Artist vanessa german stands with one of her "power figure."
German thinks of her practice as redemptive, using the transformative power of art to contend with despair. The artist has struggled with severe depression and relies on her assemblage-focused practice to mediate and escape darkness. The artist declares that with her work, "I'm fighting to create a sustainable,
whole existence for myself; to be safe to use my imagination. In an environment for your body and soul to thrive, the tools, tactics, and strategies of true sustainability cannot be separated from hope, love, creativity, goodwill, and transformation."
German's finds her objects in the Pittsburgh neighborhood of Homewood. Her figures stand on platforms of everyday materials seemingly designed to protect them from the perils of contemporary urban life. She uses her art to explore the transformative power of art and love in communities and asks, "How can I be whole here? How can WE be whole here? How do WE heal? What role can museums play as spaces of intentional social healing?"