Nigerian and American, born 1983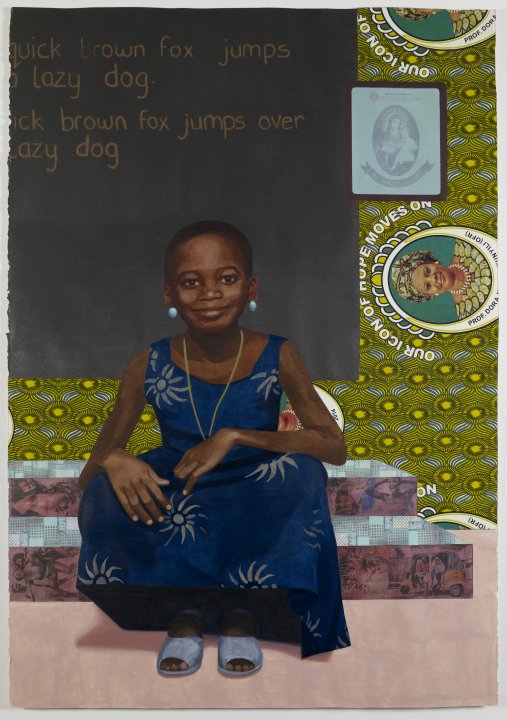 Njideka Akunyili Crosby's work draws from a wide array of influences, including the aesthetics and culture of Nigeria, where she lived until she was sixteen; an analytic mind and love of science (she started college as a Biology major); and an engagement with the history of art, especially traditional figurative drawing. Alongside photo-transfers of her own snapshots, family photos, and clippings from Nigerian fashion and news magazines, the artist employs commemorative fabrics and deft figure drawings. The resulting compositions are typically autobiographical, plumbing her fears, her pride, her loves, her memories, and her sense of belonging or not belonging.
This painting belongs to an ongoing series of portraits of the artist's family members. The title of the series, "The Beautyful Ones," is borrowed from the 1968 novel The Beautyful Ones Are Not Yet Born by Ghanaian writer Ayi Kwei Armah. The subject of this particular image is Akunyili Crosby's mother as a young student, smiling as she sits on what is presumably the stoop of a school. Portions of the step feature photo-transfers of exuberant runners at the end of a race—possibly a pun on the classic pangram "the quick brown fox jumps over the lazy dog" that appears behind the young woman. The chalkboard is surrounded by a swatch of portrait fabric produced to commemorate the funeral of the artist's mother, who was a senator and head of the Nigerian food and drug agency. In the fabric, her mother's likeness is encircled with her name and the tribute "Our Icon of Hope Moves On." In this work, the artist presents an intimate portrait of aspiration and female accomplishment across generations, and an affirmation of the transformative power of education.