Art Alive 2023 Celebration
Saturday, October 28, 2023
12 pm - 2 pm EDT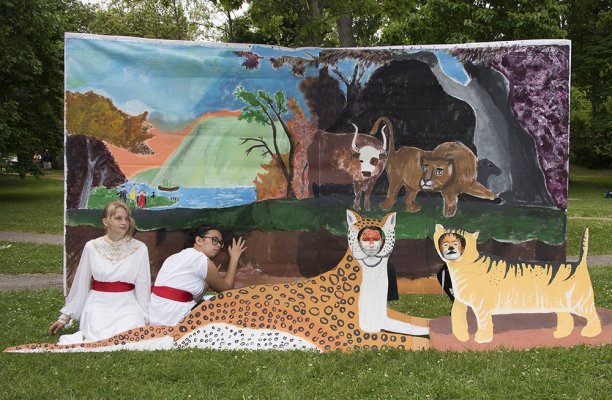 FREE
Great Lawn
Join us in celebrating the return of Art Alive to the Buffalo AKG Art Museum! This annual contest invites participants to create living representations of famous works of art for great prizes. These stunning replicas—often called tableaux—can be made using people, props, and your own creativity. Anyone can participate, including students, community groups, organizations, families, and individuals.
More than $4,000 in prizes will be awarded to the creators of winning tableaux*. Local judges will select the Best Tableau from the Buffalo AKG's Collection or AKG Public Art, Best Craftsmanship, and Most Creative Entry. These awards will be given in each category: School Groups Grades K–8, School Groups Grades 9–12, Individual Adults (Ages 18+), Individual Kids and Teens (Ages 17 and under), and Households/Community Groups.
We invite the entire community to join us to see the overwhelming creativity on display and vote for your favorite tableaux in the People's Choice Awards. There will be music, art activities with the Art Truck, and more to celebrate this special community event.
This year's winning entries are listed below.
---
Winners
People's Choice Awards
Best tableau in the Individual Adults (18+) category: Kristen Lew, Auguste Toulmouche's Getting ready for the Ball, 1883
 
Best tableau in the Groups/Household category: Anne Schneider and Cheryl Gray, John Singer Sargent's Two Girls on a Lawn, ca.1889
 
Best tableau in the Individual: Kids and Teens (Ages 17 and under) category: Arabella Seth, Paul Gauguin's Mr. Loulou (Louis Le Ray), 1890
 
Best tableau in the School Groups Grades K–8 category: North Tonawanda Intermediate School, Dale Chihuly's Fiori Boat, 2018
 
Best tableau in the School Groups Grades 9–12 category: Williamsville North High School, Nick Cave's Speak Louder, 2011
Individual Adults (18+)
Best Craftsmanship: Cynthia Jusko, Frida Kahlo's Self-Portrait with Cropped Hair, 1940
 
Most Creative Entry: Malachai Miller, Michelangelo's David, 1501–04
Groups/Household
Best Craftsmanship: Reed Family and Friends, Norman Rockwell's Freedom from Want, 1943
 
Most Creative Entry: Johannes Vermeer's The Girl with the Pearl Earring, 1665
School Groups Grades K–8
Best Tableau from the Buffalo AKG's Collection: Nichols Middle School, Grace Hartigan's When the Raven Was White, 1969
School Groups Grades 9–12
Best Tableau from the Buffalo AKG's Collection: Grand Island High School Art Club, Lauren Mckenzie-Pearce's An Artist And A Drummer, 2020–22
 
Best Craftsmanship: Buffalo Seminary, Chuck Tingley and Matt Grote's weego, 2018
 
Most Creative Entry: Buffalo Academy for Visual and Performing Arts, Julia Bottoms' A Light Under the Bushel, 2023
 
---
Art Alive Judges
Zack Boehler, Buffalo AKG Public Art Projects Coordinator
Aitina Fareed-Cooke, Get Fokus'd Productions
Maddy Glab, Buffalo Bills Team Reporter
Keiah Shauku, Buffalo AKG Director of Community Engagement
Josh Assad, 716 Foundation
Ed Kresconko, 716 Foundation