Tacita Dean: The Friar's Doodle
Saturday, September 27, 2014–Sunday, January 11, 2015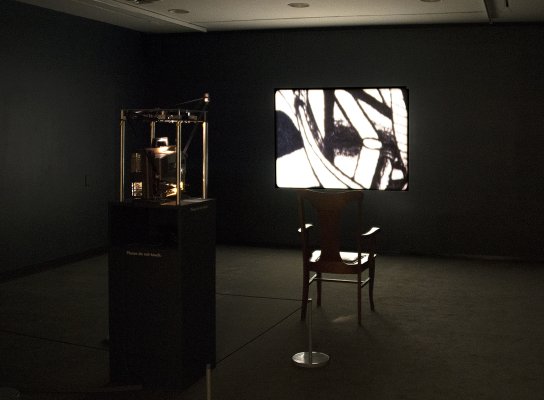 Gallery for New Media

Tacita Dean's (British, born 1965) practice combines the hand of the artist with historical elements and narratives, resulting in films and drawings that suggest a joining together of the past, present, and future. Dean achieves this through the visual eloquence of her filmic works, which are first and foremost an exploration of the medium (typically 16-millimeter film) and how viewers connect to it. About this desired encounter, she has stated, "With film you look, and with video you just see." Like experimental filmmakers Paul Sharits (American, 1943–1993) and Michael Snow (Canadian, born 1928), Dean is not afraid to make slow-paced films in which not much happens. By stepping outside of what has come to be expected of the moving image, particularly in fast-paced and dramatic Hollywood cinema, Dean is able to capture the more subtle, haunting elements of daily existence—such as the metamorphosis of light in a landscape or the poetic movements of two intertwined dancers.

Tacita Dean: The Friar's Doodle presented four works by Dean from the Albright-Knox's collection that were created following two visits to the Romanesque cloister at Santo Domingo de Silos, a Benedictine monastery in northern Spain. The silent film entitled The Friar's Doodle, 2010, and three photographs with drawing overlays that correspond to the film, utilize the sketches and doodles made by monks on and around the cloister's colonnade as inspiration; however, the subject of these works is actually based on an element from the artist's own life. For more than 40 years, Dean held onto a book that contained, between its pages, a folded photocopy of a drawing that was given to her when she was a Catholic schoolgirl in the 1970s by a young friar studying theology at a nearby university. The works in this exhibition featured a series of macro close-ups and slow-panning shots, as well as static photos, of this drawing. Dean sees the creation of these works as part artistic endeavor and part perpetuation of the work that the Benedictine monks began centuries ago.
This exhibition was organized by Godin-Spaulding Curator & Curator for the Collection Holly E. Hughes.