Rosalyn Drexler: Who Does She Think She Is?
Saturday, October 22, 2016–Sunday, January 29, 2017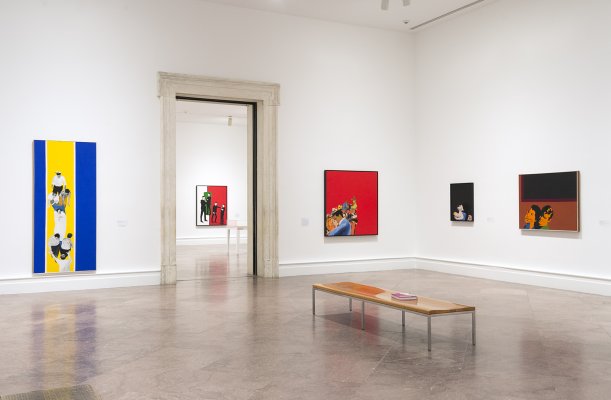 1905 Building
This historic and long-overdue monographic exhibition celebrates Rosalyn Drexler's multidisciplinary artistic practice and acknowledges her important contribution to Pop art. Drexler (American, born 1926) began using imagery culled from popular culture in 1961, the same year as Andy Warhol and Roy Lichtenstein. Her artwork, however, was often overshadowed by that of her male counterparts.

During the 1960s, Drexler developed a unique way of addressing themes from popular culture and the representation of gender roles in mass media. She pulled figures from movie posters, magazines, and advertisements, and set them against boldly colored painted backgrounds. Her subject matter focused on intimacy, violence, and masculinity, a personal, and at times darker, spin on Pop appropriation. Such themes were influenced by her life outside of the visual arts, including her role as a mother, her short-lived stint as a female wrestler, and her renowned work as a playwright and novelist. Drexler's first play was published in 1963 and her first novel in 1965. She is the recipient of three Obie Awards and an Emmy Award.

In this retrospective survey, Drexler's early sculptures, paintings, and collages are presented alongside examples from her award-winning plays and novels. These are accompanied by documentation of her personal life and wrestling and theatrical careers, emphasizing every part of her multifaceted practice.
This exhibition is organized by the Rose Art Museum at Brandeis University and was co-organized by Katy Siegel and Caitlin Julia Rubin. The exhibition is organized at the Albright-Knox by Senior Curator Cathleen Chaffee.
Admission to this exhibition is free during M&T FIRST FRIDAYS @ THE GALLERY on November 4, 2016; December 2, 2016; and January 6, 2017.