Robert Therrien
Wednesday, July 3, 2013–Sunday, October 27, 2013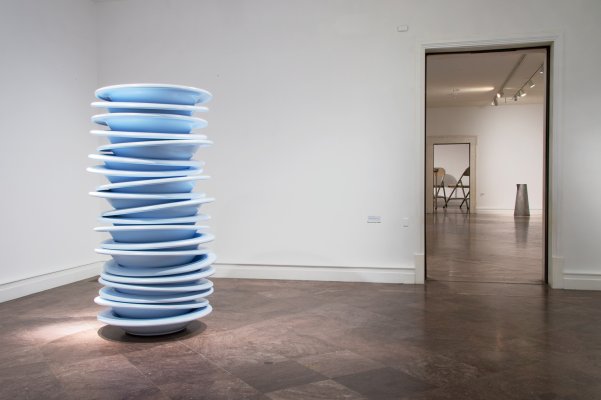 1905 Building
In summer 2013, the Albright-Knox presented a concise survey of work by the Los Angeles–based artist Robert Therrien. Since the 1970s, Therrien (1947–2019) has created work sourced from memory and the everyday—a snowman, a chapel, a coffin, a keyhole, a stack of plates—coaxing humble elements into surreal configurations through abstraction, repetition, color, and scale. In his practice, household shapes become unfamiliar, colors appear simple yet indistinguishably enigmatic, and references to known things are evoked and then deliberately blurred. His modestly sized, exquisitely hand-wrought early sculptures are minimal, simplified shapes abstracted from reality, and his later works, despite their industrialized and imposing presence, can also be readily identified as having a basis in real life. Large in scale, highly fabricated, and often distorted, they become less real even as they are more recognizable.
Reflecting the museum's mission to acquire the work of contemporary artists in depth, this exhibition began with eight objects drawn from the Albright-Knox's collection, including pivotal early works from the 1980s, along with works on paper and an iconic large-scale folding table and chair set completed in 2006. From this core of works, which was acquired in recent years from the renowned Panza Collection, the exhibition evolved to encompass highlights from the artist's nearly forty-year career, including key examples from the 1970s to the present day. While primarily focusing on Therrien's sculptural output, the exhibition also contains mixed-media works, a collection of exquisite works on paper, and a gallery dedicated to the collaboration between Therrien, the Buffalo-based poet Robert Creeley (1926–2005), and the writer Michel Butor (French, born 1926).
This exhibition was organized by guest curator Heather Pesanti, Senior Curator, The Contemporary Austin.
Exhibition Sponsors

This exhibition was made possible, in part, through the generous support of Gagosian Gallery.

Additional support for the exhibition catalogue was provided by Linda Brown, MaddocksBrown Foundation, and an anonymous donor.