Joan Jonas: Good Night Good Morning
Saturday, January 16, 2016–Sunday, May 1, 2016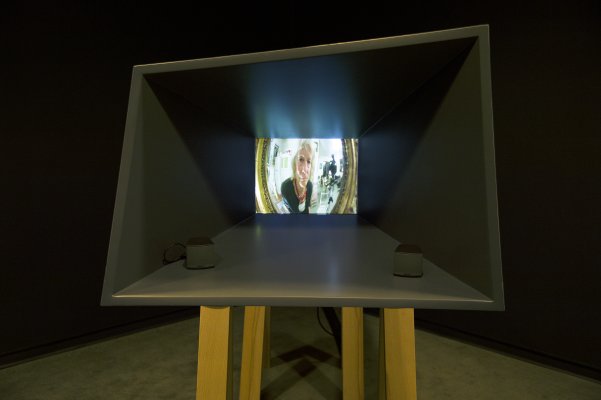 Gallery for New Media
Joan Jonas (American, born 1936) is best known for her unique combination of installation, performance, drawing, photography, and film. Jonas characteristically develops her wide-ranging works by continually supplementing and refining them over the course of several years. Often, she will repeat a performance only to then transform it into an installation when she feels that the narrative has reached completion. This exhibition will debut two works by Jonas that the museum recently acquired. Despite the thirty years between their creations, they are expressly connected.
The two works presented in this exhibition—Good Night Good Morning, 1976, and My New Theater VI, Good Night Good Morning '06, 2006—contemplate the passage of time, the process of ageing, and the artist's self-identity. To create the 1976 video, Jonas spoke directly to the camera, as if it was a mirror, and wished it a "good morning" and a "good night" each day over the course of three weeks. In 1997, Jonas began a new series entitled "My New Theater," 1997–2006, as a means to make public her creative process via small, portable theaters she calls "worlds in miniature." The integration of sculpture and performance in these works is drawn from aspects of her studio practice. In My New Theater VI, Good Night Good Morning '06, Jonas observes herself just as the viewer might observe her. Now aged seventy, she revisits her 1976 work. In this later version, however, she looks indirectly into the camera via a mirror, demonstrating a more playful side of herself in contrast to the stoicism of her performance many years prior. Together, these two works form a powerful self-portrait of the artist, as well as an illustration of the changes her work has undergone during the past three decades.
This exhibition is organized by Godin-Spaulding Curator & Curator for the Collection Holly E. Hughes.
Admission to this exhibition is free during M&T FIRST FRIDAYS @ THE GALLERY.
Exhibition Sponsor

Equipment and technical support provided by Advantage TI.