Five Buffalos at Central Library
Thursday, June 30, 2016–Sunday, July 31, 2016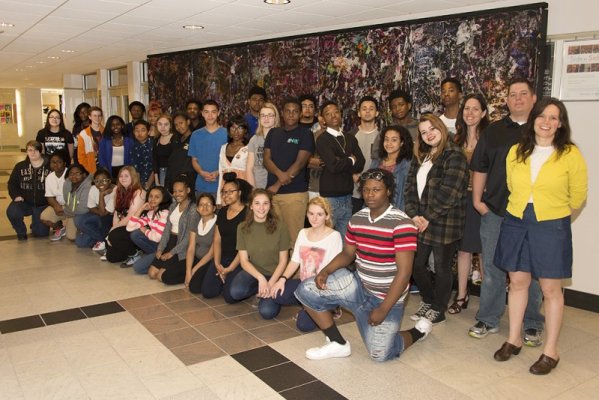 Buffalo & Erie County Public Library, Central Library
In association with the exhibition Shade: Clyfford Still / Mark Bradford, participating students at the Buffalo Academy for Visual and Performing Arts examined the studio process and social art practice of acclaimed contemporary artist Mark Bradford to develop inspiration for their own class project. Students investigated themes surrounding Buffalo's neighborhoods and urban renewal, local environmental issues, and perceived overall quality of life in our city. Class discussions explored personal reflections on community and student aspirations for the future. The result, a five-panel mural titled Five Buffalos, addresses these topics through the lens of student experience as a means to highlight their wish that all of Buffalo's residents experience our city's rejuvenation.
After a month at the Central Library, Five Buffalos, 2016, will be on view at Buffalo Arts Studio beginning August 1, 2016.
Program Sponsors

The First Niagara Foundation is proud to serve as the official education sponsor of this collaboration and exhibition. Their sponsorship will underwrite free admission to Shade: Clyfford Still / Mark Bradford for all K–12 students in Erie County during the months of July and August 2016, among other programming.