Common Sky

, by Studio Other Spaces—Olafur Eliasson and Sebastian Behmann

Monday, June 12, 2023–Saturday, May 25, 2024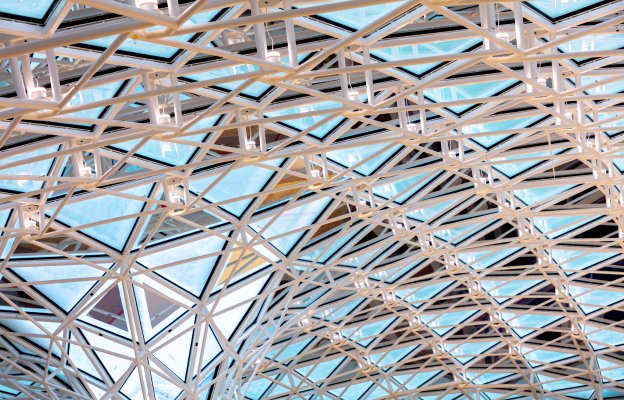 Town Square
Seymour H. Knox Building
Common Sky, 2022, is both a work of art and a functional canopy that encloses the Buffalo AKG's Town Square, situated between the 1905 Robert and Elisabeth Wilmers Building and the 1962 Seymour H. Knox Building. As part of the museum's expansion, this undulating canopy of glass and mirrors was commissioned from Studio Other Spaces, a collaboration between the Danish-Icelandic artist Olafur Eliasson (Icelandic, born Denmark, 1967) and the architect Sebastian Behmann (German, born 1969). Eliasson is renowned for his use of mirrors and lights to create unexpected visual experiences. For example, his work Triple Ripple, 2004, also in the AKG's collection, immerses viewers in shifting patterns of light created by spotlights directed at motorized mirrored discs.
In Common Sky, the angled facets of transparent glass and mirrors similarly transform the Town Square with light and shadow as the sun and clouds pass overhead. The space also functions in as a kind of walk-in kaleidoscope: looking up, viewers see multiple, refracted images of themselves, other visitors, the Town Square floor, and the sky itself. Near the center of Common Sky is a hollow funnel that, like a tree in a forest, rises from the floor toward the asymmetrical, billowing canopy. In fact, it marks the spot where a lone tree once stood in what was formerly an open-air courtyard. This funnel is designed to collect both rain and snow as the seasons change, creating a direct link to the natural world, including the lush surroundings of Frederick Law Olmsted's Delaware Park. Common Sky unifies these elements into a single visual tapestry, suggesting that the museum is an inclusive and social space situated between nature and culture—one in which visitors might find themselves reflected in the art on view, as part of a larger community and the natural world.
Common Sky is a long-term installation. This page marks a year-long celebration highlighting newly commissioned works for the 2023 opening of the Buffalo AKG.
About the Artists
Olafur Eliasson
A childhood spent in Denmark and Iceland inspired Olafur Eliasson's interest in natural phenomena as artistic material. His sculptures and large-scale art installations activate elements such as light, water, and air temperature to intensify ordinary human experiences of the world. Eliasson lives and works in Copenhagen and Berlin. Eliasson collaborates with a large team of craftspeople, architects, art historians, engineers, and assistants in his projects. In 2014, he cofounded Studio Other Spaces with architect Sebastian Behmann, Eliasson has also been appointed Goodwill Ambassador for renewable energy and climate action by the United Nations Development Program.
Sebastian Behmann
Sebastian Behmann is a Berlin-based architect. After studying architecture in the former German Democratic Republic, Behmann gained a reputation for work with artists that resulted in large installations. A long-time collaborator with Olafur Eliasson, Behmann co-founded Studio Other Spaces with the artist, where he is the head of design there. Behmann helps realize artistic concepts, often complex and grand in scale, managing the fabricators and specialist contractors that these ambitious projects demand.
Program Sponsor

The Buffalo AKG's exhibition program is generously supported by The Seymour H. Knox Foundation, Inc.