David Adamo
Thursday, January 22, 2015–Sunday, May 17, 2015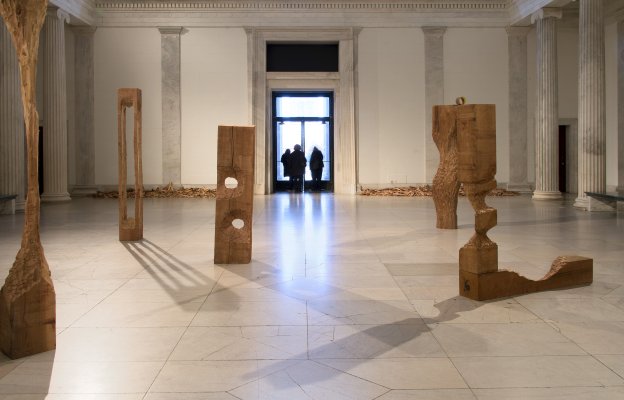 Gallery for Small Sculpture and Sculpture Court
David Adamo (American, born 1979) is an expert transformer of materials. His roughly carved cedar sculptures are formally elegant abstractions that reveal his fascination with the accidental and even surreal shapes he observes in nature. These include trees gnawed by beavers, stumps hollowed by woodpeckers, and earth mounded by termites. He also makes humorous and unexpected small-scale sculptures, such as orange peels made of bronze and green packing peanuts meticulously modeled in ceramic.
In this installation, which Adamo designed for the Albright-Knox, he underlined the extraordinarily diverse ways that sculpture itself is an art of removal. He carved away wood but also casted a half-eaten ear of corn in bronze (each missing kernel is a record of his young son's deliberate approach to the challenge of eating from the cob). Adamo's functioning, miniature sculptures of radiators evoked memories of these last objects remaining in a home when all the belongings have been packed and carried away. And his plaster cookies—sometimes broken, sometimes missing a bite—are based on those from a bakery in Adamo's hometown of Rochester, New York. They were staples at family weddings and birthdays, and as sculptures they recall the morning after, when the party is over.
This was the first solo museum exhibition in the United States for the Rochester-born, Berlin-based artist. The exhibition featured work created from 2012 to the present, including a new group of carved sculptures created in 2015 for the Sculpture Court of the Albright-Knox.
This exhibition was organized by Curator Cathleen Chaffee. 
Exhibition Sponsors

This exhibition was made possible, in part, through the generous support of Peter Freeman, Inc., New York / Paris.