We Wanted a Revolution: Black Radical Women, 1965–85 Timeline:&nbsp

We Wanted a Revolution:
Black Radical Women, 1965–85
Timeline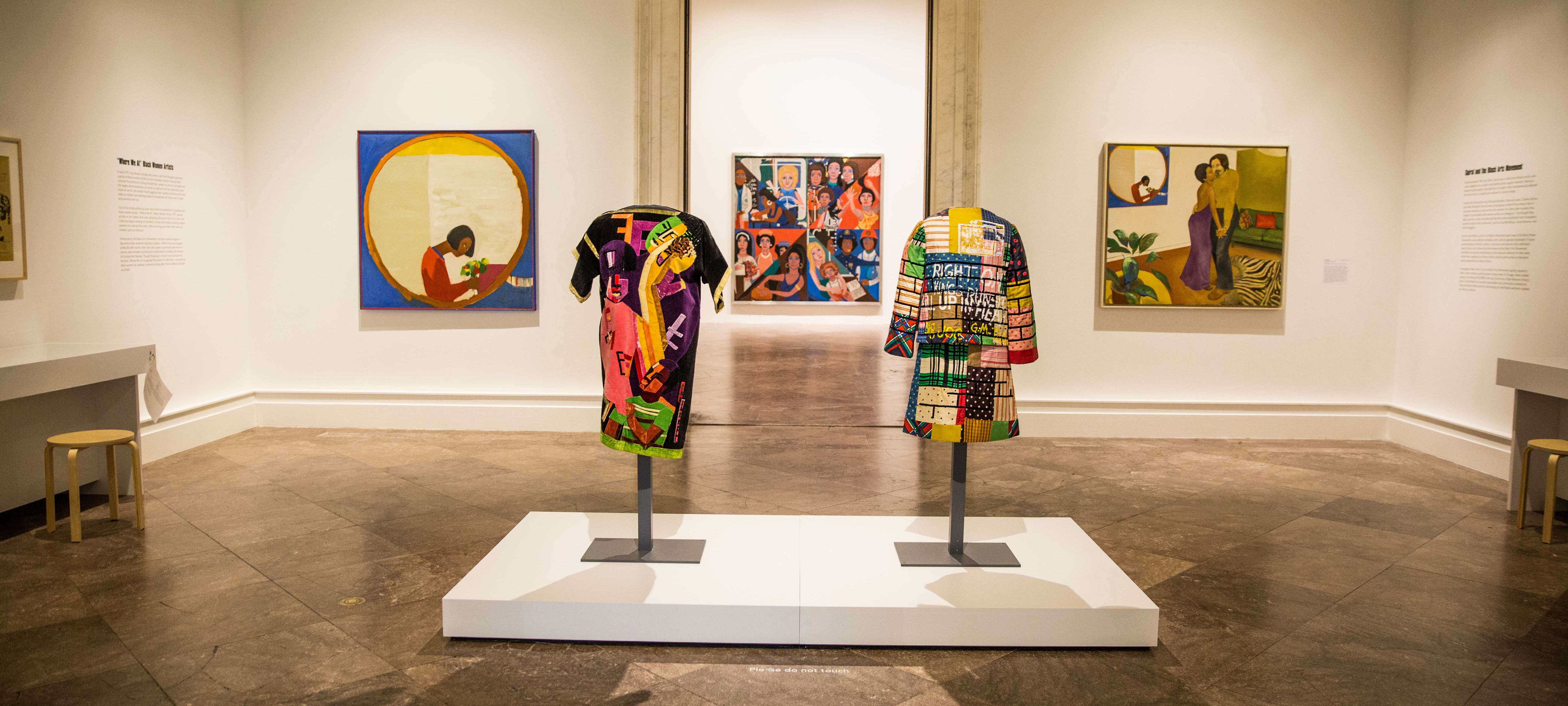 1954
May: In Brown v. Board of Education of Topeka, the Supreme Court rules that segregation in public schools is unconstitutional.
1955
August: Fourteen-year-old Emmett Till is murdered after a white woman falsely accuses him of inappropriate behavior.

December: Rosa Parks is arrested after refusing to give up her seal on a public bus for a white rider; the 381-day Montgomery Bus Boycott follows.
1960
February: Four students stage a sit-in at a segregated lunch counter in Greensboro, North Carolina, spurring over sixty sit-ins and leading to the de-segregation of restaurants in twenty-six southern cities within six months.
1962
October: James Meredith becomes the first African American student admitted to the University of Mississippi.
1963
February: Betty Friedan publishes The Feminine Mystique, helping to spark the second-wave feminist movement, which focused on issues such as reproductive rights and social and professional equality.
June: NAACP field officer Medgar Evers is murdered in front of his home in Jackson, Mississippi.

July: Spiral, a collective of African American artists, meets for the first time.

August: An estimated 250,000 people attend The March on Washington for Jobs and Freedom, where Martin Luther King Jr. delivers his "I Have a Dream" speech.
1964
July: The Civil Rights Act of 1964 is signed, prohibiting employment discrimination on the basis of race, color, religion, sex, and national origin.
1965
The Weusi Artists Collective is established in Harlem.

February: Malcolm X is assassinated.

March: Thousands of voting rights demonstrators march from Selma to Montgomery, Alabama.

April: LeRoi Jones (later Amiri Baraka) opens the Black Arts Repertory Theatre/School in Harlem.

August: The Voting Rights Act of 1965 prohibits discriminatory voting practices.

August: The arrest of a black motorist in the predominantly African American neighborhood of Watts in Los Angeles triggers longstanding frustrations in the community and leads to six days of civil unrest.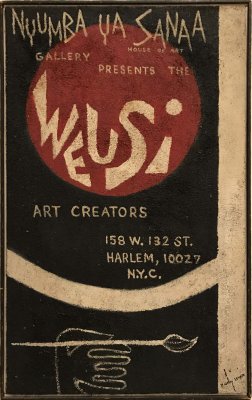 1966
June: The National Organizatian for Women (NOW) is founded.

Summer: Stokely Carmichael begins popularizing the idea of "Black Power."
1967
May: The Organization of Black American Culture is founded on Chicago's South Side.

June: In Loving v. Virginia, the Supreme Court rules that laws prohibiting interracial marriage are unconstitutional.

Summer: Civil unrest prompted by racial inequality breaks out in Detroit, Cincinnati. Atlanta, and Newark as well as Buffalo's East Side.
1968
AfriCOBRA (African Commune of Bad Relevant Artists) is founded as COBRA (Coalition of Black Revolutionary Artists). Artist and fashion designer Jae Jarrell is one of the cofounders.
April: Martin Luther King Jr. is assassinated. Civil unrest breaks out in more than 100 cities nationwide, including Baltimore, Chicago, and Washington, D.C.

June: Presenting Harlem exclusively through documentary images, not contemporary art, The Metropolitan Museum of Art exhibition Harlem on My Mind: Cultural Capital of Black America, 1900–1968 draws criticism from African American artists, many of whom go on to form the Black Emergency Cultural Coalition (BECC).

September: The Studio Museum in Harlem is founded.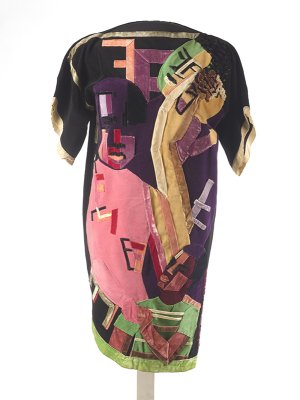 1969
January: The Art Workers' Coalition (AWC) comes together to address the responsibility of museums to artists and to engaging all audiences, regardless of race.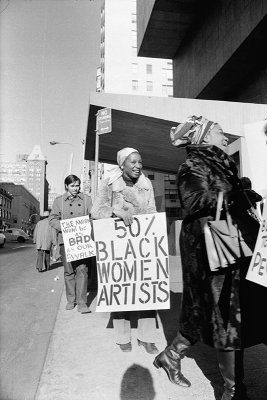 1970
November: Artists Faith Ringgold, Jon Hendricks, and Jean Toche are charged with desecrating the flag for their roles in organizing the People's Flag Show to protest laws limiting the display and use of the American flag.
1971
January: Linda Nochlin publishes her essay "Why Have There Been No Great Women Artists," exploring institutional barriers to the arts faced by women working in the Western tradition.

Spring: "Where We At" Black Women Artists is founded to provide a platform for black women artists to gather, support one another, and create exhibition opportunities for their work
April: Citing concerns over the oversimplistic curatorial framing applied to their work, fifteen of seventy-five artists withdraw from the Whitney Museum of American Art's exhibition Contemporary Black Artists In America.
1972
March: The Equal Rights Amendment, originally drafted in 1923, passes through Congress. It ultimately fails to be ratified by the required number of states.
June: Title IX of the Education Amendments becomes law, banning sex discrimination in educational institutions.
July: The first independent issue of the feminist magazine Ms., founded by Gloria Steinem and Dorothy Pitman Hughes, is published.
September: The A.I.R.(Artists In Residence) Gallery is established. It is the first nonprofit, artist-directed gallery for women in the United States.
1973
January: In Roe v. Wade, the Supreme Court upholds women's right to abortion.
May: The National Black Feminist Organization (NBFO) is founded to address issues affecting black women but overlooked by the mainstream feminist movement.
December: After sustained pressure by activists, the American Psychiatric Association's Board of Trustees voted to remove homosexuality from the Diagnostic and Statistical Manual of Mental Disorders.
1974
January: The Combahee River Collective is formed, setting itself apart from the mainstream Civil Rights and feminist movements in its focus on the interconnection of race, class, gender, and sexuality.
November: Linda Goode Bryant opens the nonprofit, interdisciplinary JAM (Just Above Midtown) Gallery in the center of New York's predominately white gallery district with an aim to introduce black artists to larger audiences.
1977
January: Heresies: A Feminist Publication on Art and Politics debuts with the goal to examine "art and politics from a feminist perspective."
November: The Combahee River Collective denounces the omission of women of color from Heresies's third issue, "Lesbian Art and Artists."
November: Harvey Milk is elected as a San Francisco City-County Supervisor, becoming the first openly gay man to be voted into public office in a major American city.
1979
February: The N***** Drawings, a solo exhibition of charcoal drawings by the white artist Donald Newman at Artists Space, draws protests.
September: Heresies publishes its eighth issue, "Third World Women: The Politics of Being Other." The relationship between the issue's editorial board and the all-white Heresies Collective is strained by accusations of insensitivity and racism.
October: More than 75,000 people participate in the National March on Washington for Lesbian and Gay Rights.
1980
May: The acquittal of four Dade County police officers in the death of Arthur McDuffie, a black man brutally beaten at the end of a high-speed chase, sparks civil unrest in Miami.
September: Cuban American artist Ana Mendieta organizes Dialectics of Isolation: An Exhibition of Third World Women Artists of the United States at the A.I.R. Gallery.
1981
June: The Centers for Disease Control and Prevention publish the first official case studies related to what will become the HIV/AIDS epidemic.
1985
May: Philadelphia police raid the headquarters of MOVE, a radical, black separatist group, and ultimately bomb the home, killing eleven people and setting the surrounding row houses on fire.
The black women artists, writers, actors, and musicians of Rodeo Caldonia High-Fidelity Performance Theater stage their first performance.