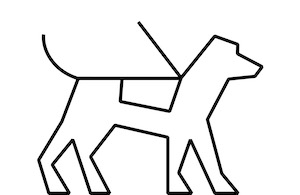 We welcome Service Animals at the Buffalo AKG Art Museum. Visitors with Service Animals do not need to notify us in advance, but please read these guidelines. 
Animals whose sole function is to provide comfort or emotional support do not qualify as Service Animals under the Americans with Disabilities Act (ADA) and are, therefore, not permitted.
---
What is a Service Animal? 
The ADA defines a Service Animal as a dog that is individually trained to perform tasks for a person with a disability. Under the ADA, Service Animals must be harnessed, leashed, or tethered, unless these devices interfere with the Service Animal's work or the individual's disability prevents using these devices. In that case, the individual must maintain control of the animal through voice, signal, or other effective means. Examples of work tasks include, but are not limited to, guiding people who are blind, alerting people who are d/Deaf, pulling a wheelchair, alerting and protecting a person who is having a seizure, reminding a person with mental illness to take prescribed medications, or calming a person with Post Traumatic Stress Disorder (PTSD) during an anxiety attack.
Service Animals are working animals, not pets. The animal does not have to be licensed or certified as a Service Animal nor does any paperwork, badge, or vest need to be displayed.
By law, Buffalo AKG staff can ask:
Is your Service Animal required because of a disability?
What work or task has the Service Animal been trained to perform?
Staff might ask these questions in order to assess the best way to accommodate you and your animal.
By law, Buffalo AKG staff cannot:
Ask about your disability

Require medical documentation substantiating your disability and/or need for a Service Animal

Require special identification or documentation for a dog that you identify as a Service Animal

Ask that a dog identified as a Service Animal demonstrate its ability to perform the work or task

Charge an additional fee to persons for the presence of their Service Animal

Restrict the type of dog breeds that can be used as Service Animals
A person with a disability may be asked to remove their Service Animal if:
The Service Animal is out of control and the handler does not take effective action

The Service Animal is not housebroken