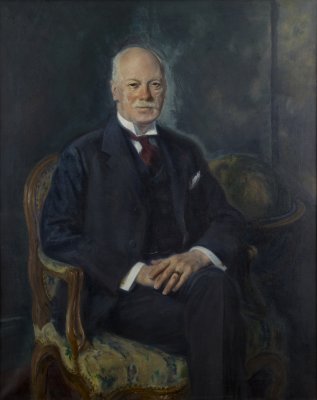 Born and educated in Buffalo, Colonel Charles Clifton was a major figure in shaping the automotive industry during its first decades. In 1897, he joined the George N. Pierce company—at that time a bicycle wheel manufacturer—and stayed on when it was reorganized as the Pierce-Arrow Motor Company, becoming chairman of the company's board of directors in 1916. Clifton was also the founding president of the National Automotive Chamber of Commerce. When the organization was founded in 1904, American factories only produced 23,000 cars annually; when Clifton resigned his post in 1927, the automobile manufacturing was the highest-grossing industry in the country, surpassing steelmaking and meatpacking.
Clifton joined the museum's Board in 1914, serving initially on the finance committee before becoming vice president and then president, a role he held from 1918 until his death in 1928. In 1919, Clifton endowed an acquisition fund at the museum and in 1924, he instituted an additional fund intended specifically to promote the acquisition of sculpture for the collection. In addition, he also gave several gifts of works of art during his lifetime, most notably Claude Monet's Chemin de halage à Argenteuil (Towpath at Argenteuil, Winter), 1875–76. In 1928, Clifton donated the building now known as Clifton Hall to the museum for use as a permanent home for its art school.
In addition to his dedication to the Albright-Knox, Clifton also served as president of Buffalo General Hospital, where he funded in large part the construction of a memorial wing. During World War I, he was president of the Allied War Relief and of the Fatherless Children of France. In recognition of his support, especially for children orphaned by the war, Clifton was made a Chevalier of the Legion of Honor by the French government.
Last updated 2019