Family Activity Inspired by Betsy Casañas's AK Public Art Mural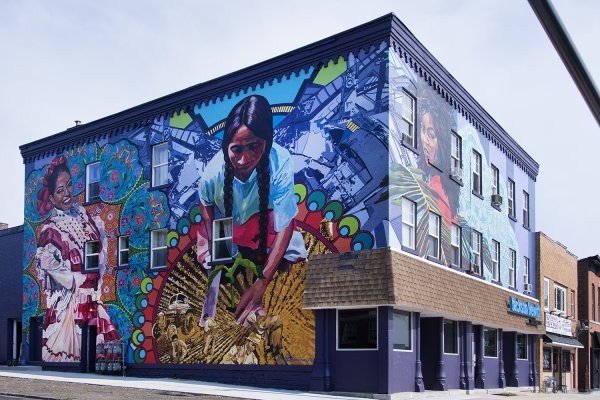 Materials
Brown paper bag
Paper
Cereal box
Pencil
Markers, colored pencils, or crayons
Scissors
Tape
Artmaking Activity
1. Prep your paper bag by removing any handles and cutting the bag down one of the corner seams to the bottom.
2. Cut out the bottom of the bag. This is now your wrapping paper. Set this aside.
3. Next, draw three objects that celebrate your cultural heritage and traditions on a new piece of paper. Shown here are three items that celebrate my Mexican American heritage: a concha (a traditional Mexican sweet bread roll), a tamale (a traditional Mesoamerican dish, made of masa or dough, which is steamed in a corn husk), and a poinsettia (indigenous to Central America).
4. Cut out all three shapes from your paper.
5. Trace the cut-out objects on the cereal box. (You can tape them to the cereal box to make tracing easier.)
6. Cut out all three shapes from your cereal box. These are your stencils!
7. Use the stencils to draw patterns on your wrapping paper.
8. Use your coloring materials to decorate your wrapping paper.
9. Now you can wrap your gifts!
Vocabulary 
Shape: a form created when a line is enclosed
Pattern: a design in which lines, shapes, forms, or colors are repeated